Hello from New York City! Fredrik and I are currently visiting the city that never sleeps for the very first time. And let me tell you, it is exactly like I thought it would be. After years and years of watching some of my favourite movies and TV series like Sex and the City, The Devil Wears Prada, Home Alone 2, Friends & 30 Rock just to name a few that were filmed here, it is amazing to see this city yourself. One one hand it feels very familiar because I've seen the city so often on screen, and on the other hand it feels very overwhelming and big. But one thing is sure, it is very impressive. Because inspiration hit me while being here, I wanted to take the chance to finally show photos from an amazing shoot that took place in NYC with our partner Wedding box.
When Wilbirg and Jason got married at New York City Hall they only had a small and intimate wedding without a wedding party or even a photographer.
Our partner Wedding box thought this was a perfect opportunity and put a team of wedding vendors together to create their dream wedding as an inspirational style shoot. An intimate New York Wedding Style Shoot at one of the most beautiful spots in Brooklyn, overlooking the city skyline that never sleeps.
The day started at the Loft, where bride and groom had a small breakfast to enjoy the morning and the excitement of the day.
Wilbirg met our model (maid of honour) who helped her get dressed and relax. Jason enjoyed having time for himself, reading the newspaper and getting dressed. Both were nervous and full of excitement because they never saw each other in a wedding dress or wedding tuxedo.
Wilbirgs Make-Up was very down to earth, very natural, her hair a little messy, like she wanted it. Our Golden Beauty headpiece in her hair gave her the right sparkle. They left the apartment separately to get the first glimpse outside in a better light.
When Jason finally saw Wilbirg, he told us that she looked more beautiful than he ever expected. You can really see how in love they are, just by the way they look at each other. We went next to the location to take some couple pictures, before leaving to our location.
Wilbirg is from Austria, and so was most of the helping team. That was one of the reasons they were excited about this wedding photo shoot, and of course, both wanted a location where you could face the City. And honestly, it never gets old watching New York in different lights during the day.
When the Couple entered the location, we created a crowd of friends waiting outside with the ceremony officiant; it was a cosy autumn day, not too cold and perfect weather for an outdoor wedding. The sun was warm, and there was no wind at all
Ruth Muzio, one of our favourite florists in New York, created the wedding bouquet and floral designs for the location.
Something different, colourful but classy was the briefing, and she combined it with some vintage materials so that it looked awesome. Instead of an arch, she designed to big flower arrangements so that you could easily see the city behind.
The warm autumn light was a perfect match with the soft lavender, green and the berry colours. The table setting was a mix of gold and flowers, messy but structured including some stones as name cards. The Vows and table numbers were on the acrylic glass, from the cake topper till the champagne signs.
Instead of a cake, we decided to have a doughnut mountain, because the bride loves doughnuts since she moved to the United States.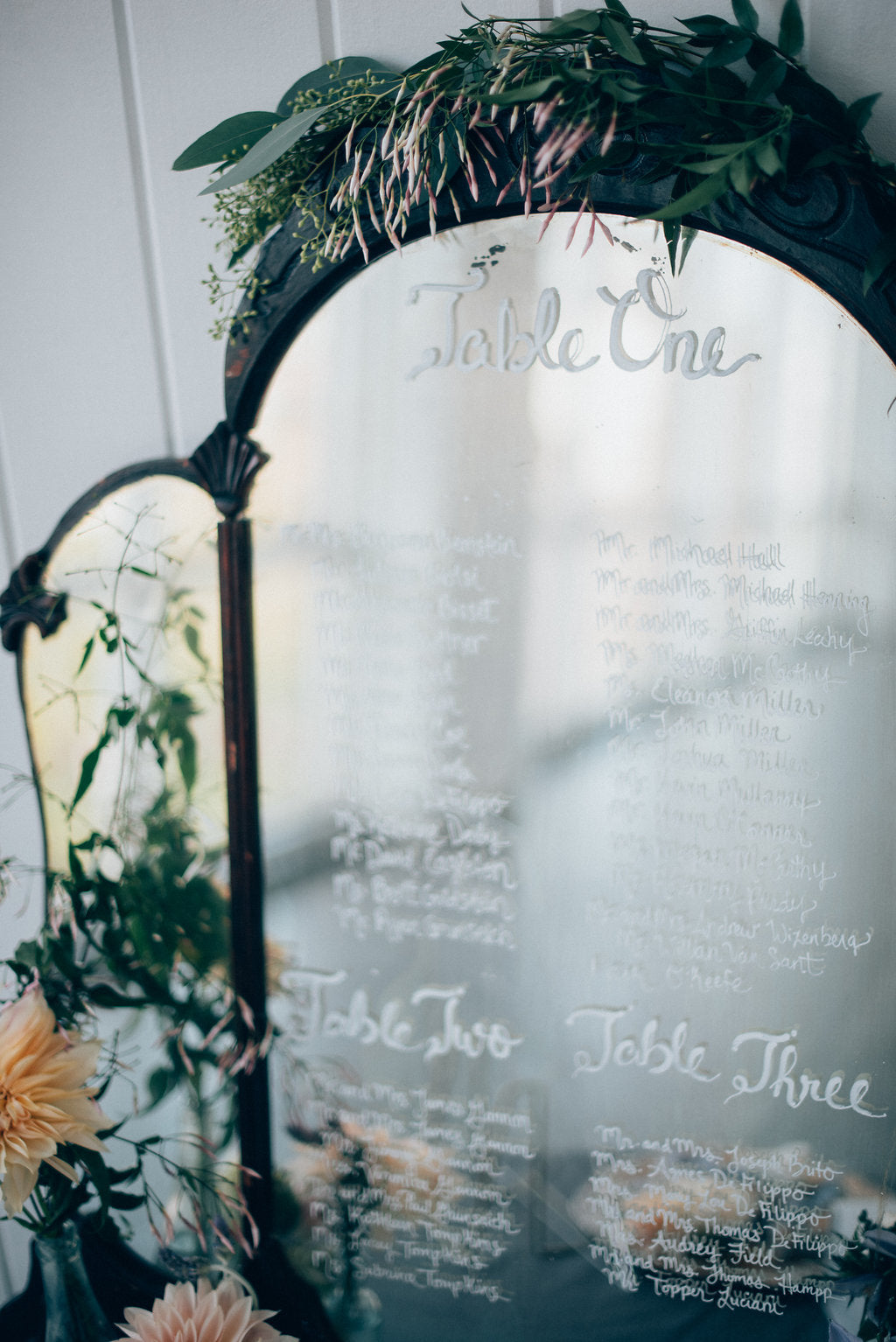 We tried to include every detail that was important for the real couple, so that they would have their little dream wedding with everything they ever wanted, including their first dance under the stars and with New York in the back
---
Photography MANUELA KALUPAR | Organization WEDDING BOX | Wedding Planner WEDDING PLANERY | Wedding Planner Assistant HOCHZEITSGESELLSCHAFT – KATHARINA FRICK | Decoration & Styling MELANIE SHARMA WEDDING DECOR & STYLING | Dress ANNA KARA | Bridal Store FEINSTENS| Headpiece & Earrings JUVELAN| Floral Design QUATRE COEUR| Stationary CECI NEW YORK | Hair & Make-Up YOUR CHOICE VIENNA ORGANIC MODERNISM| Rentals SMITH PARTY RENTALS| Videographer TOM & NENA WEDDING FILM | Venue W LOFT – BK VENUES|  Bride & Groom WILBURG HICKEY & JASON HICKEY | Rings ROSA MARLENE | Outdoor Lounge ORGANIC MODERNISM | Behind the Scenes NANI & PAUL PHOTOGRAPHICS | Model SONJA PETRKOWSKY