2017 has been a year that we will personally never forget. And one of the biggest reasons for that is that Fredrik and I met each other ten years ago and it was the year in which we celebrated our very own wedding in August 2017 on the countryside in Belgium where I grew up. It might sound cliché, but it was without a doubt by far the most incredible day of our lives so far. And since a huge part of our daily work is helping brides find their perfect bridal jewellery and headpieces for their wedding day, we thought it would be nice to share a little bit of our wedding day with you. So today we'll show you some of our getting read and the moment Fredrik and I saw each other for the first time in our in our custom suits. A little warning before you continue. You might see a lot of red eyes filled with tears. That's because, on top of it is the most fantastic day, it was a day filled with a lot of emotions, love and happiness.
Getting ready
After we started the day having breakfast together with some of our friends who stayed at the same hotel as we did, Fredrik and I went our separate ways to make ourselves ready. And that's the moment the butterflies kicked in. We had been looking forward to this day for such a long time, and suddenly it was there.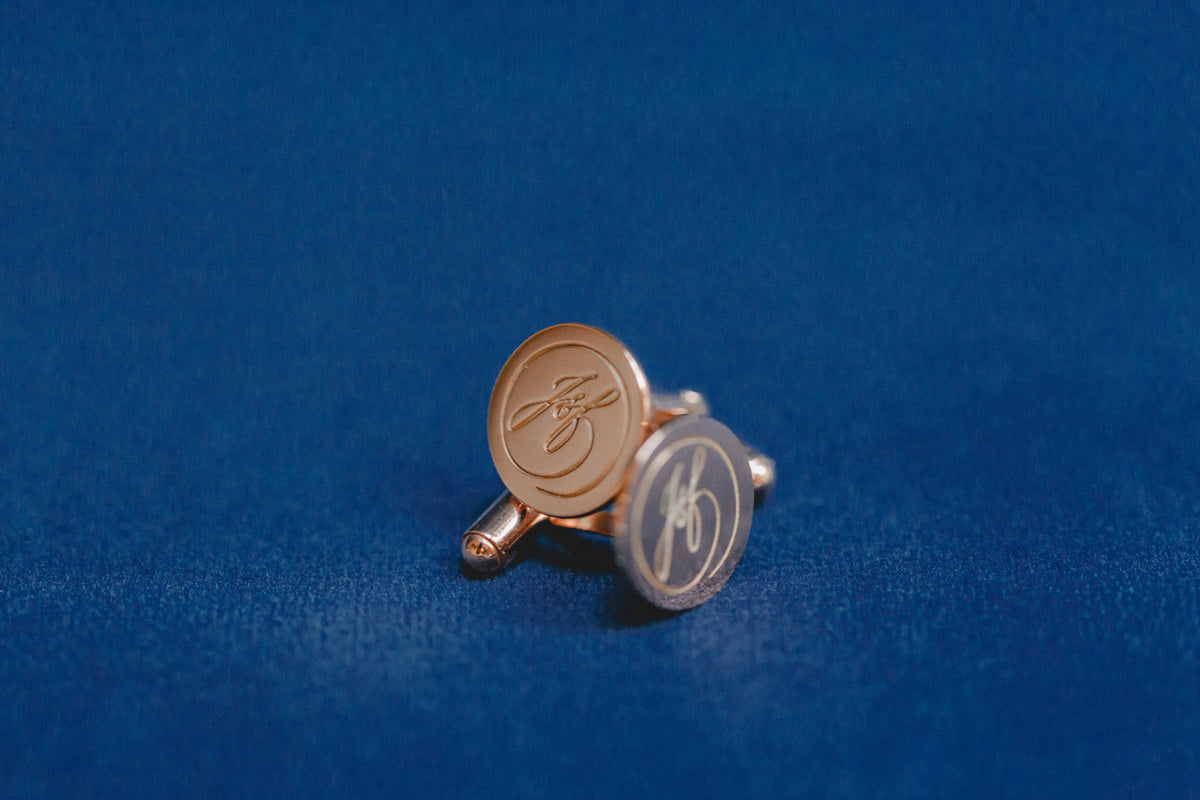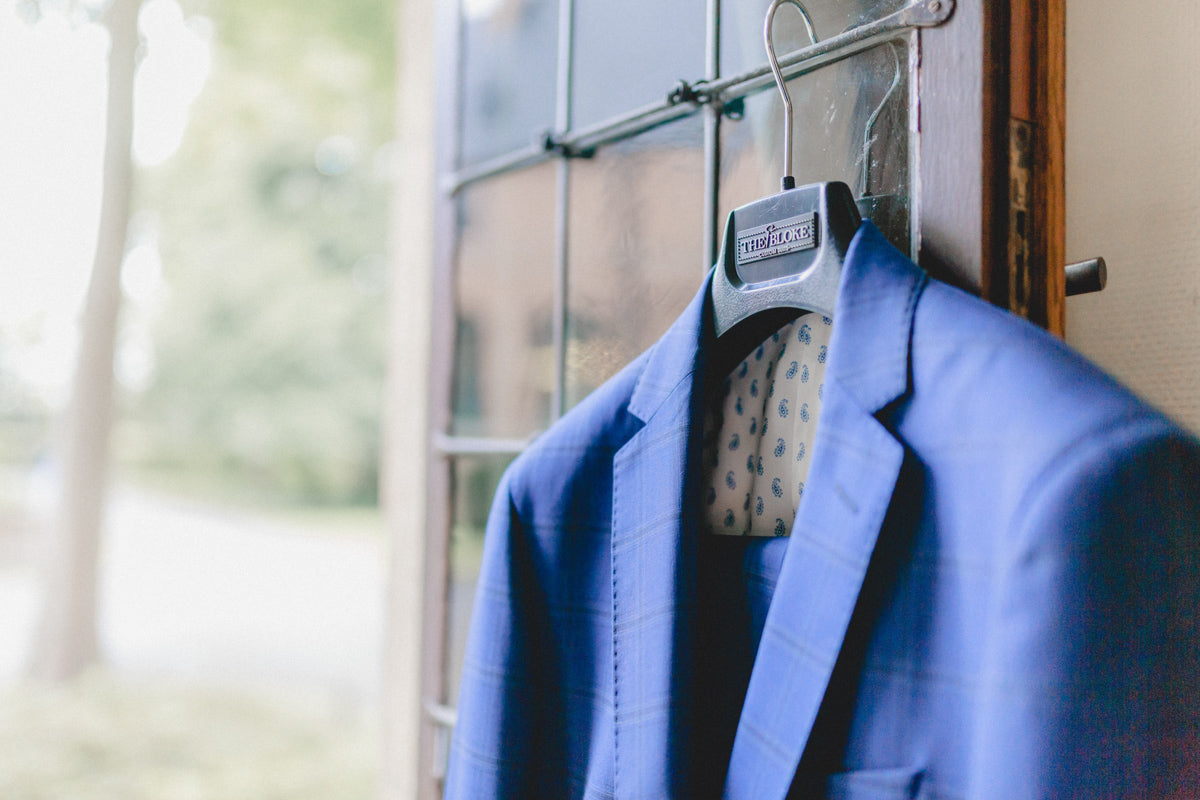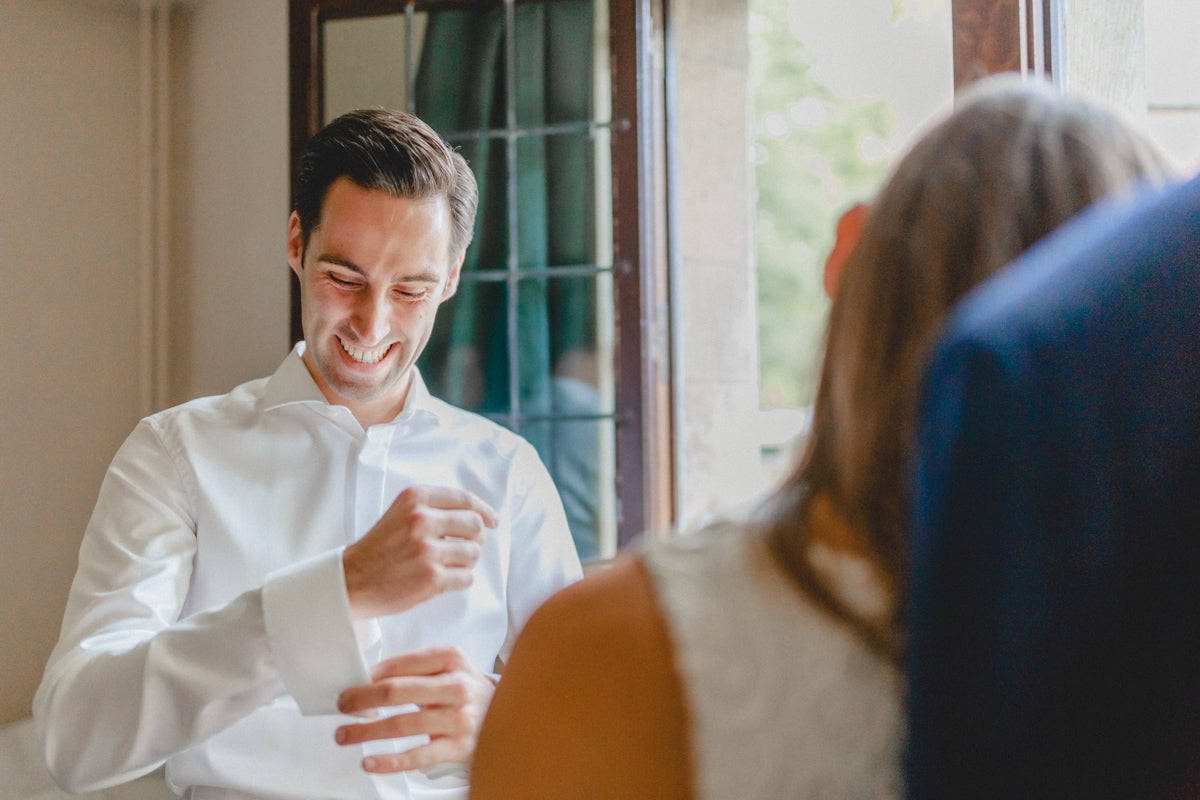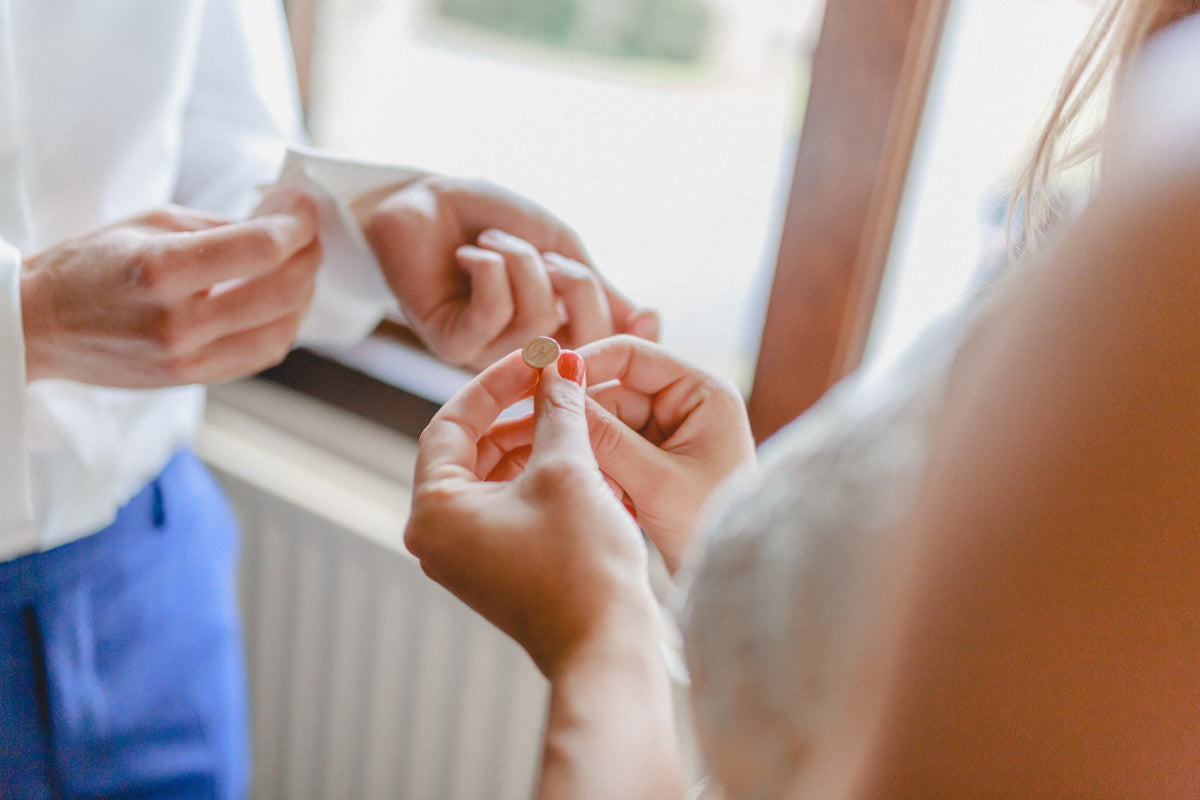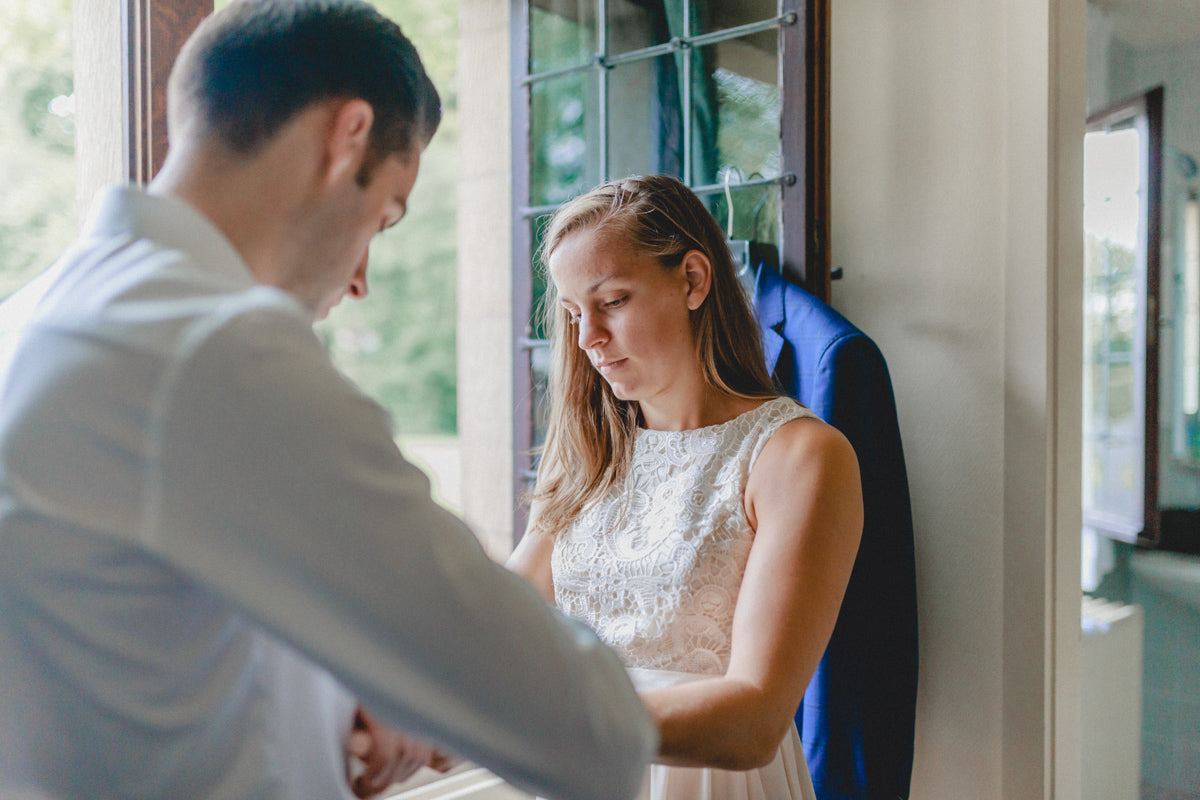 JOHAN "Together with my sister Katrien, who was also my witness, we went to our room so I could get ready. Even though butterflies and emotions were very much there, I felt very relaxed and also incredibly excited about everything that was about to happen that day. After I was finished getting dressed and decided what colour bow tie I was going to wear, we used a little moment to shoot some portraits outside. While Fredrik was getting ready, we used the time for Katrien to get ready and get her hair done, and I spent some time with our friends Esther and Frédéric who were getting ready in the room next doors and knew exactly how exciting this all was since they celebrated their wedding the summer before."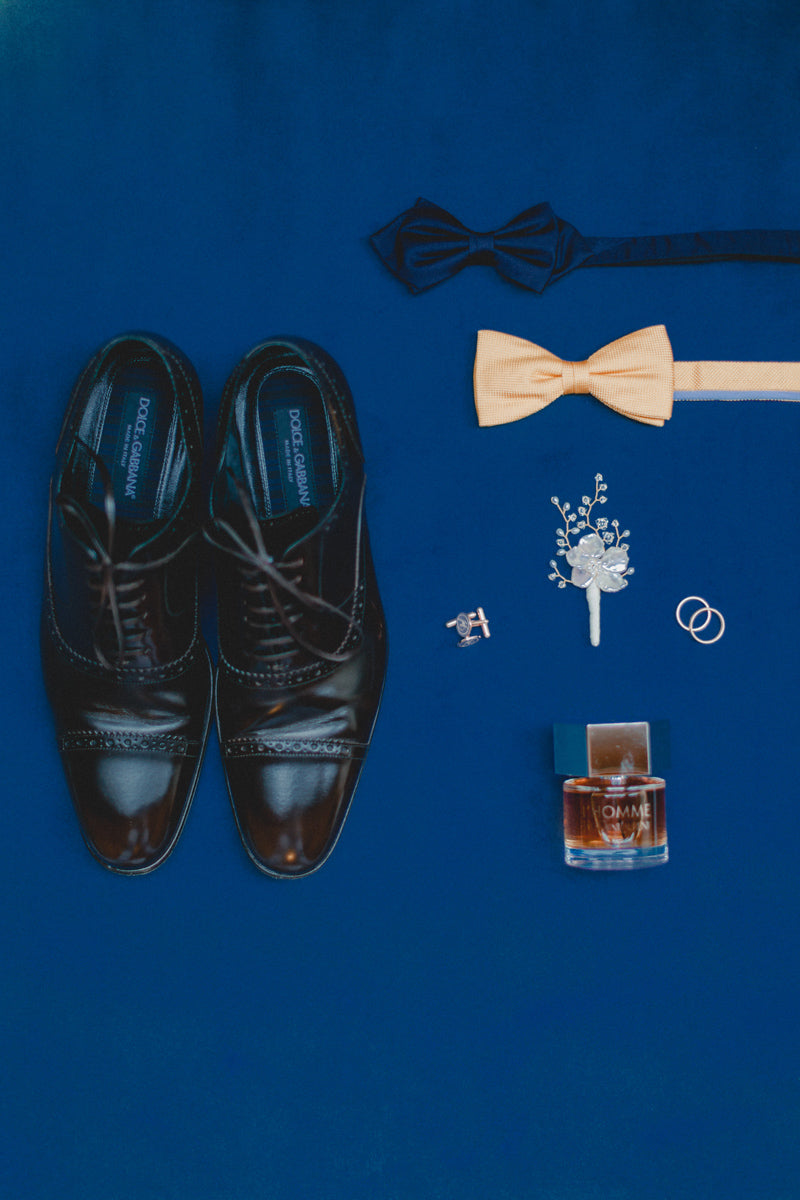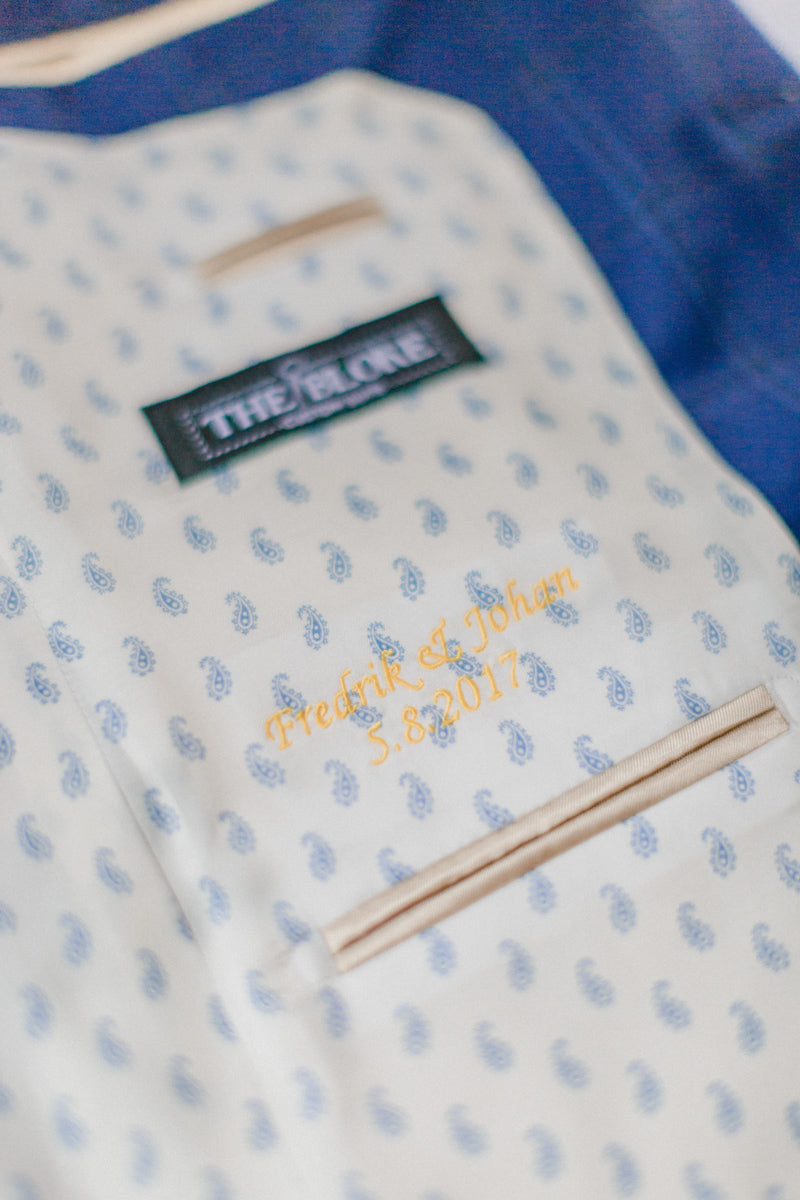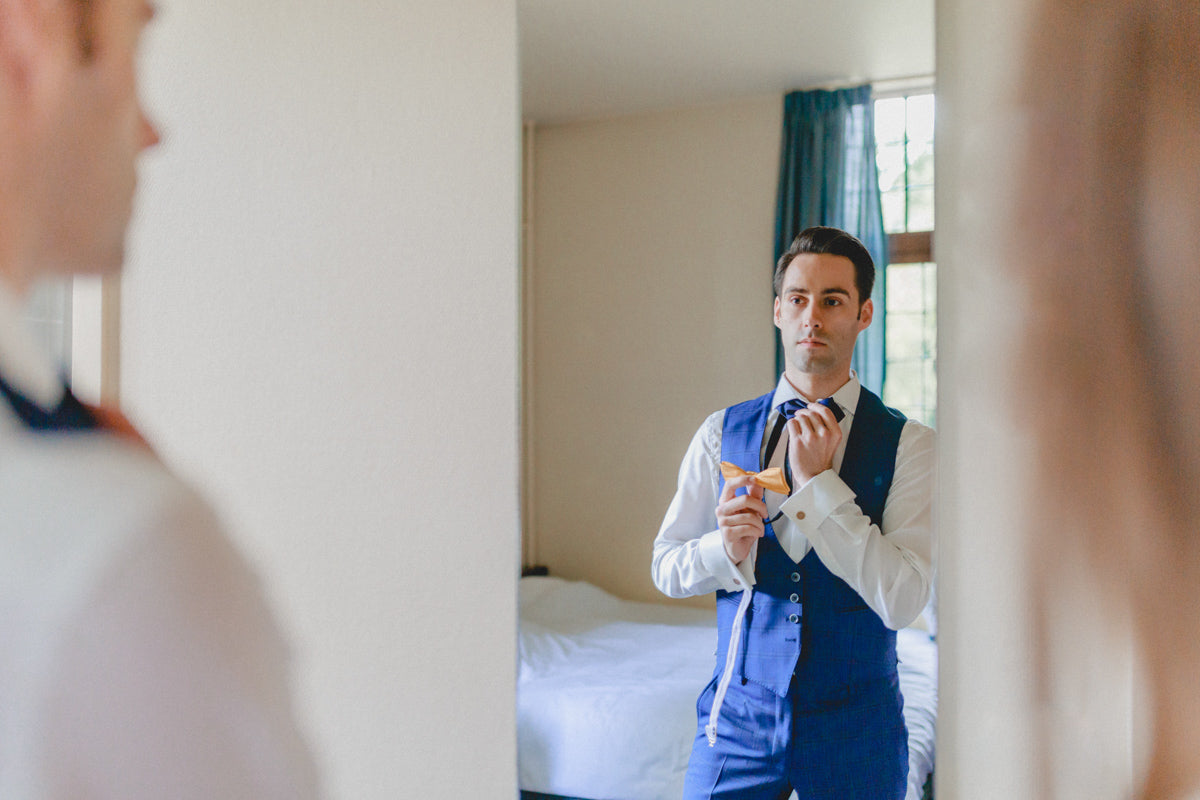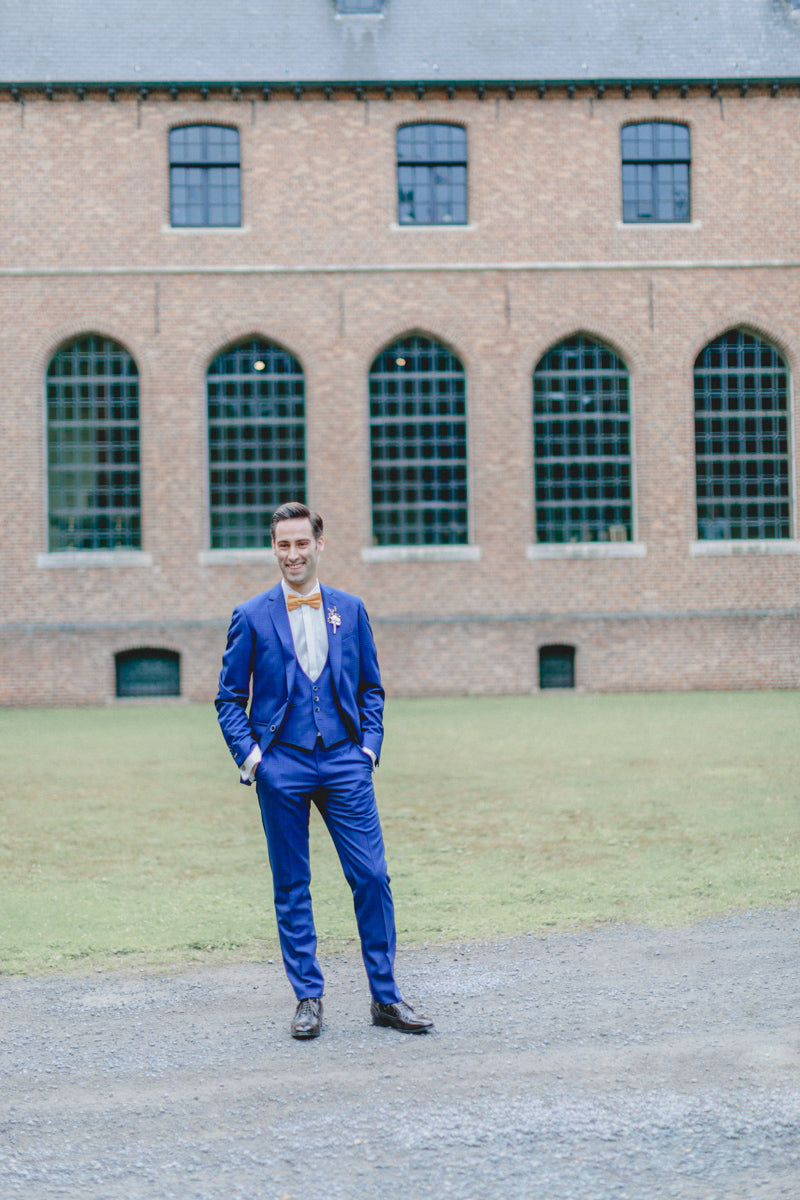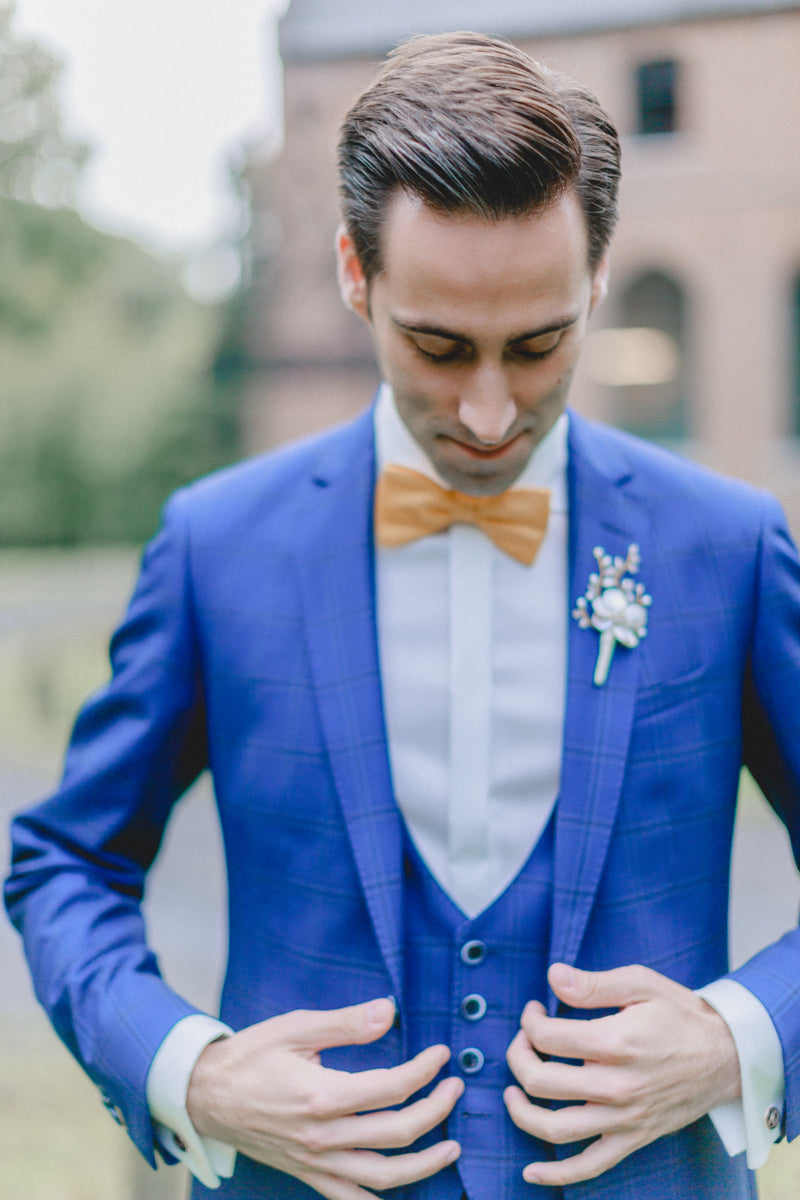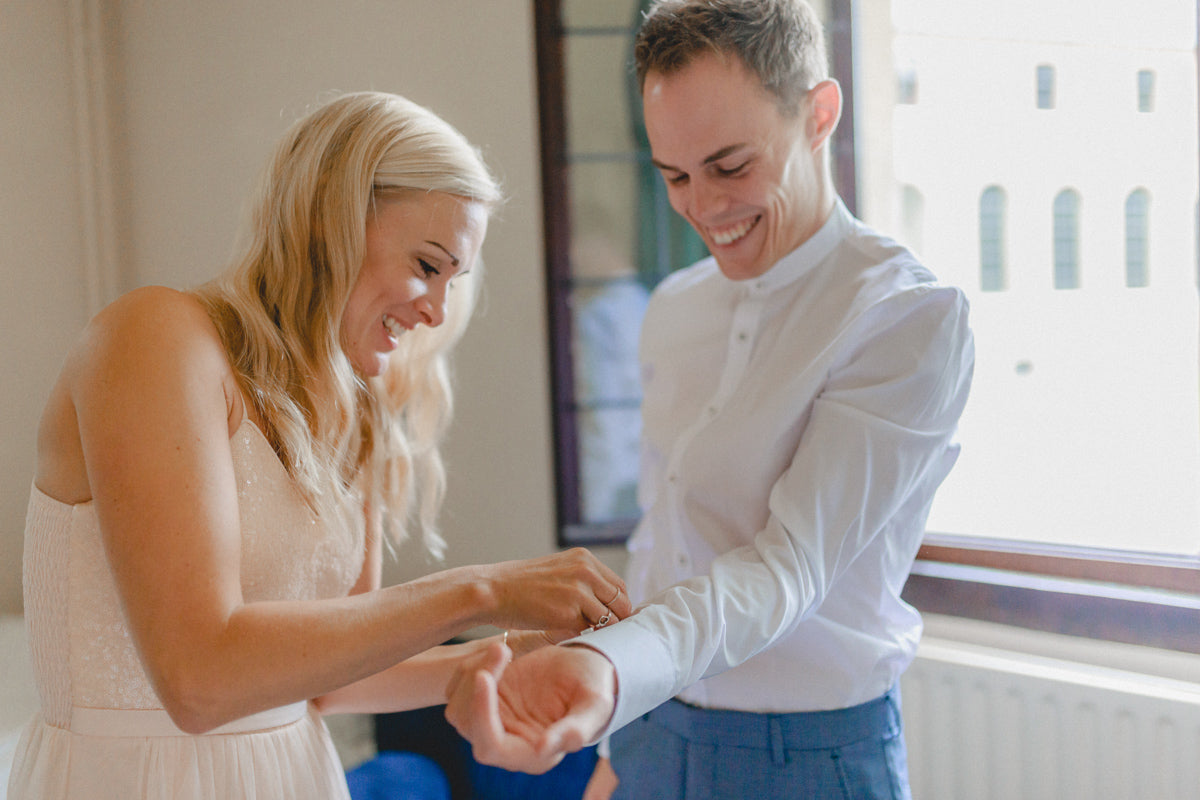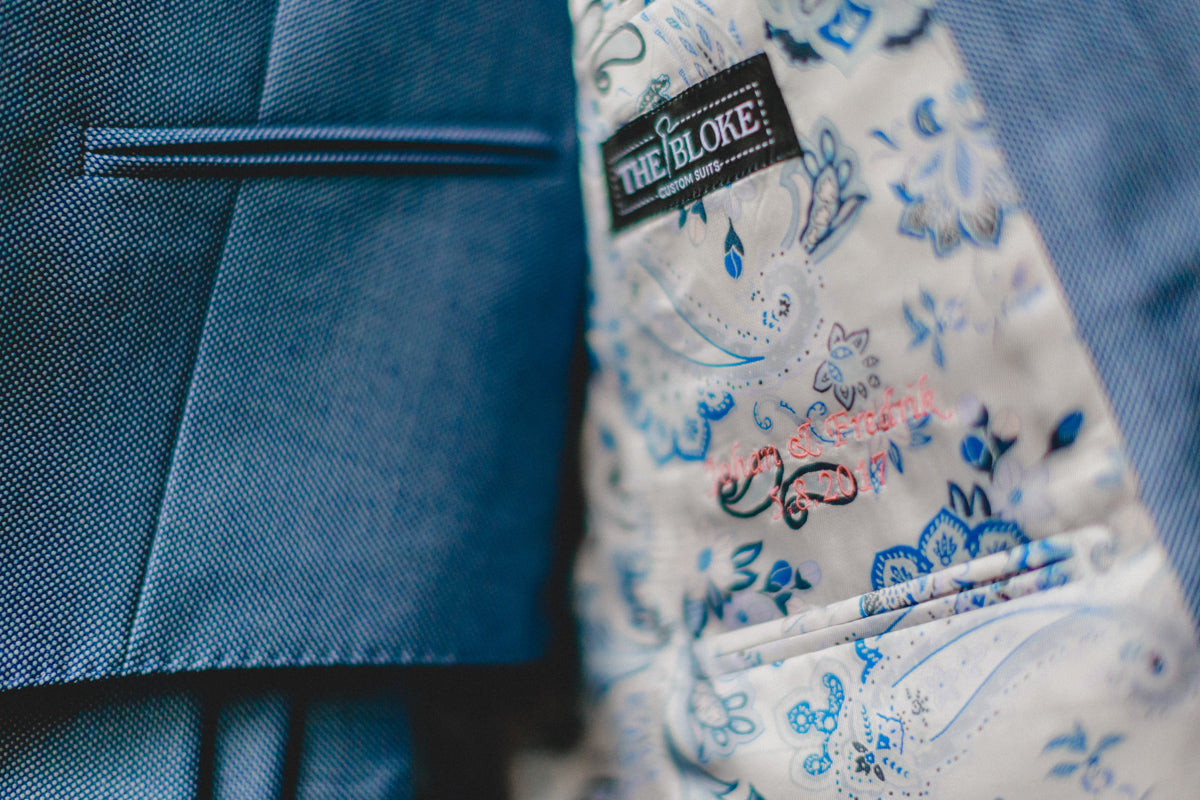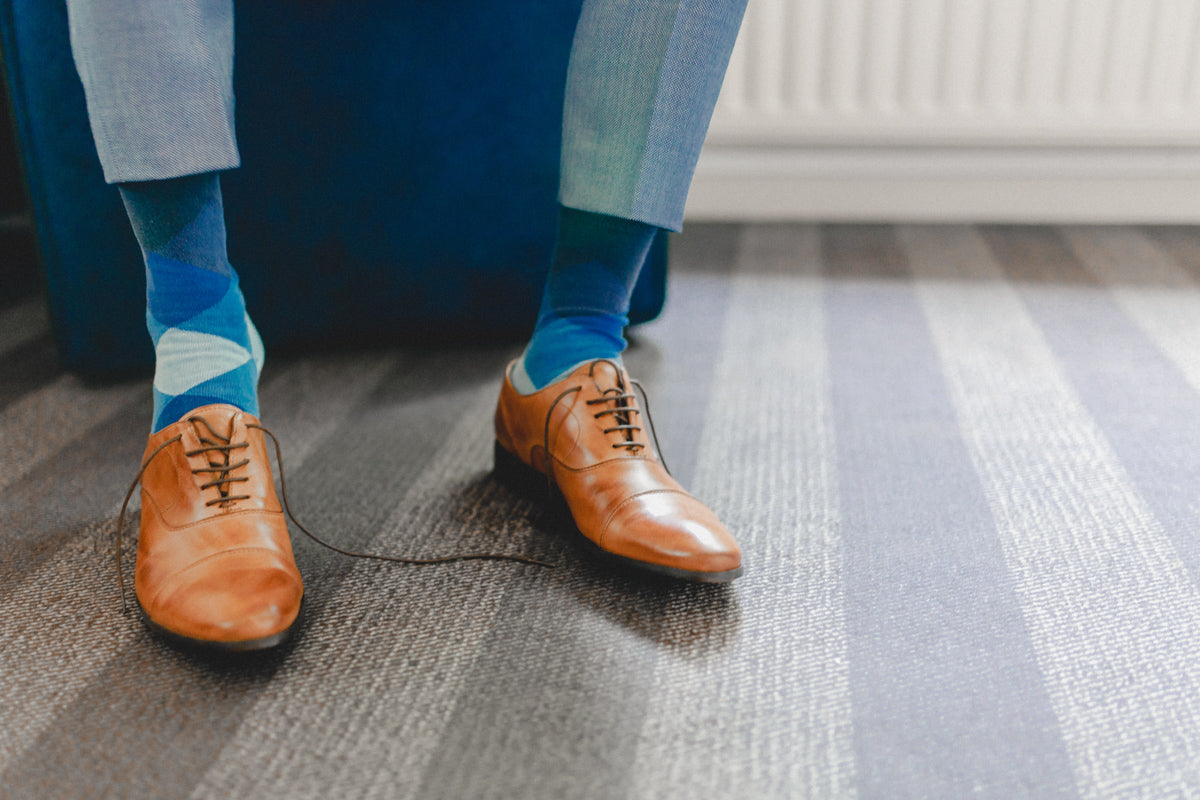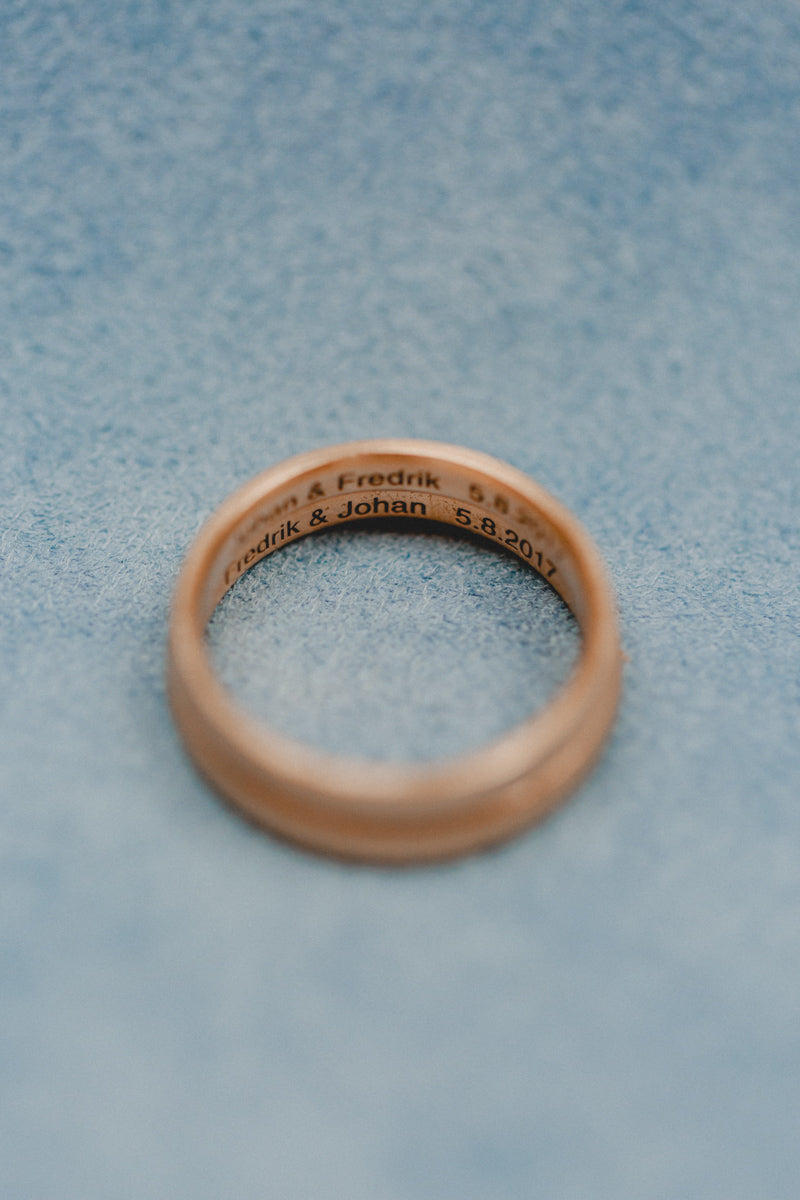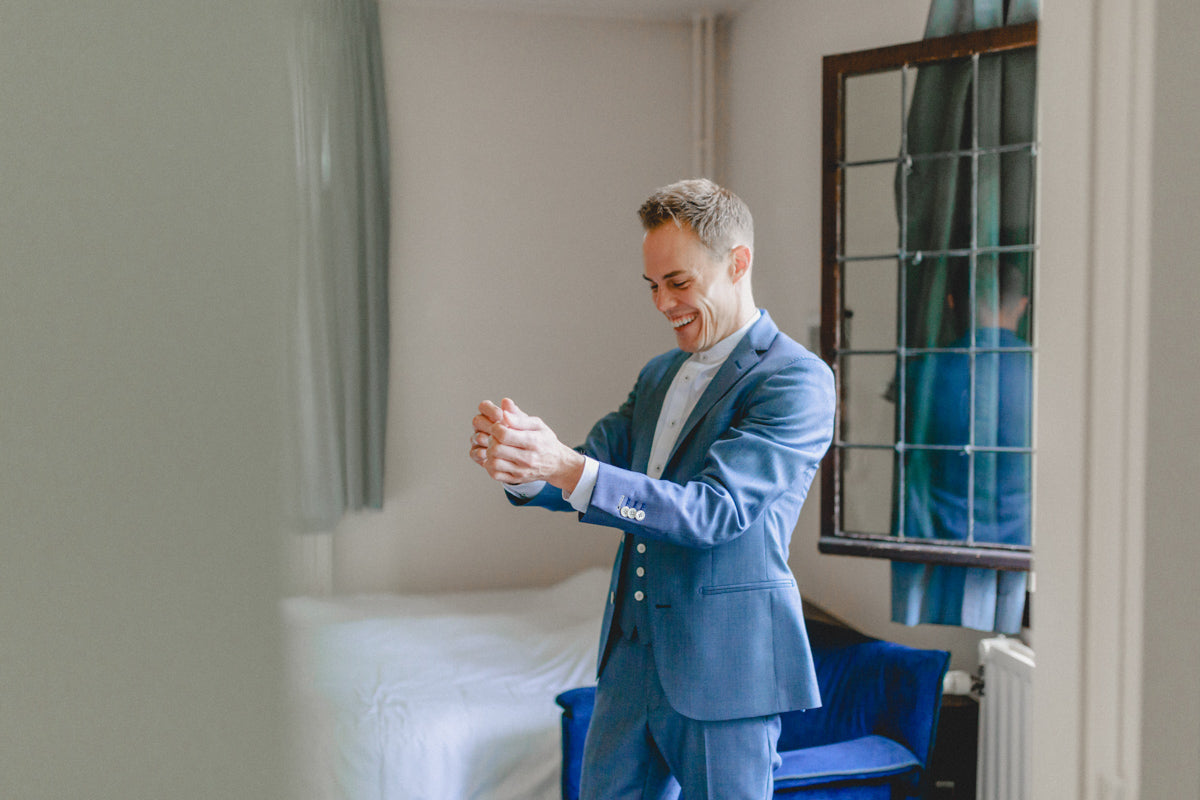 FREDRIK: "I spent approx. 45 minutes with my witness Samantha in a separate hotel room waiting for Johan to get ready. This was one of the most memorable moments of the day. We had some time to just go through some thoughts around the wedding and to take a deep breath before the activities started. Although I wasn't nervous at all, but only excited, I did appreciate her little gift of a very tasteful, exclusive shot that to kick off the day. While walking from the one room to the other, where the actual getting ready shoot was taking place, we had to walk outside crossing a garden; all of a sudden we ran into Johan with his witness Katrien. But the girls reacted very fast, and both made sure, we weren't able to see each other.
Samantha then helped me get dressed, although there wasn't much for her to do except closing the buttons on my sleeves and attaching my boutonnière. I think Samantha had more to do with herself, putting on her make-up and finishing off her hairdo. All I had to do was putting some wax and hairspray into my hair and voila, done. In those moments, I'm always grateful for being a man."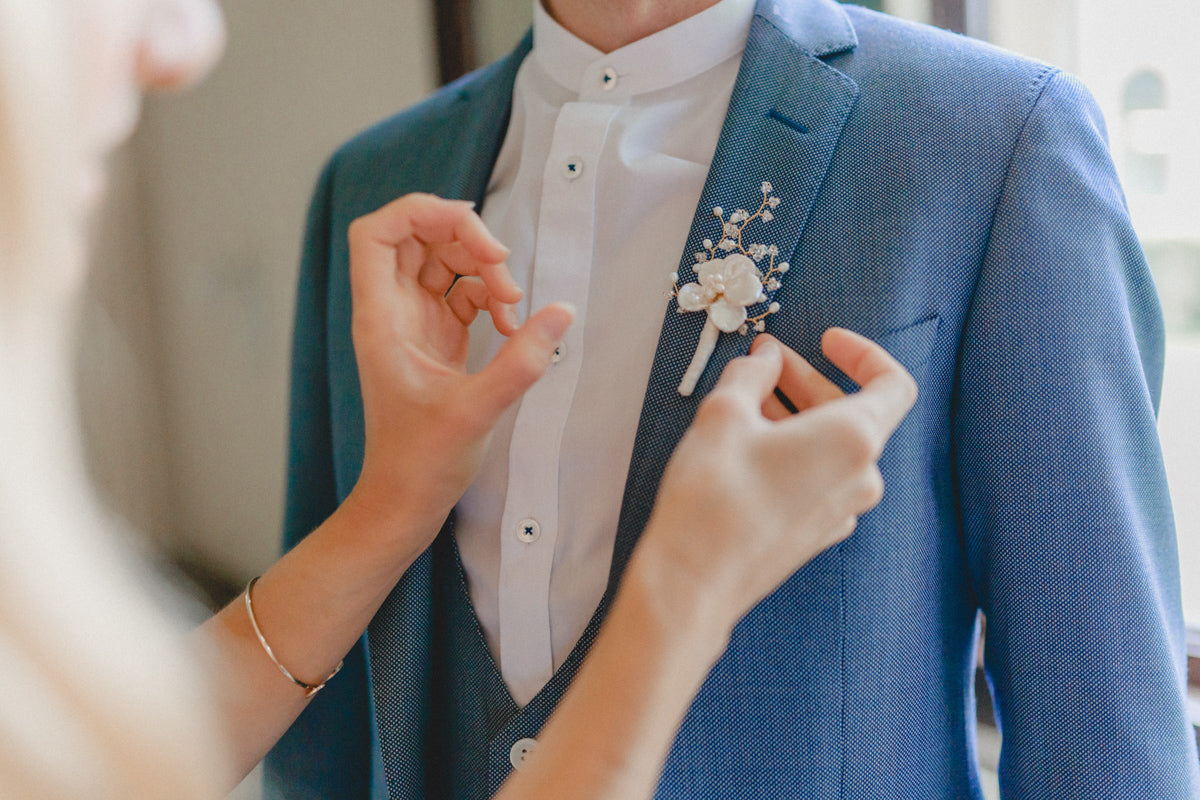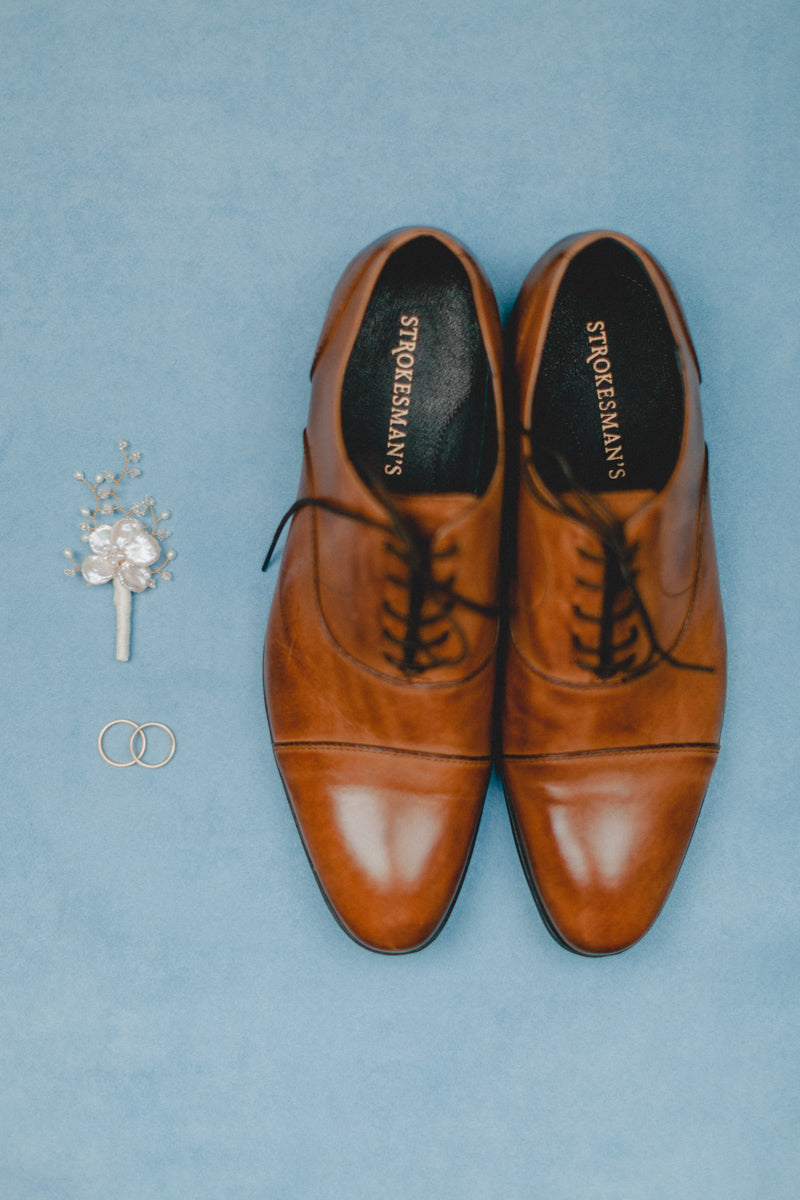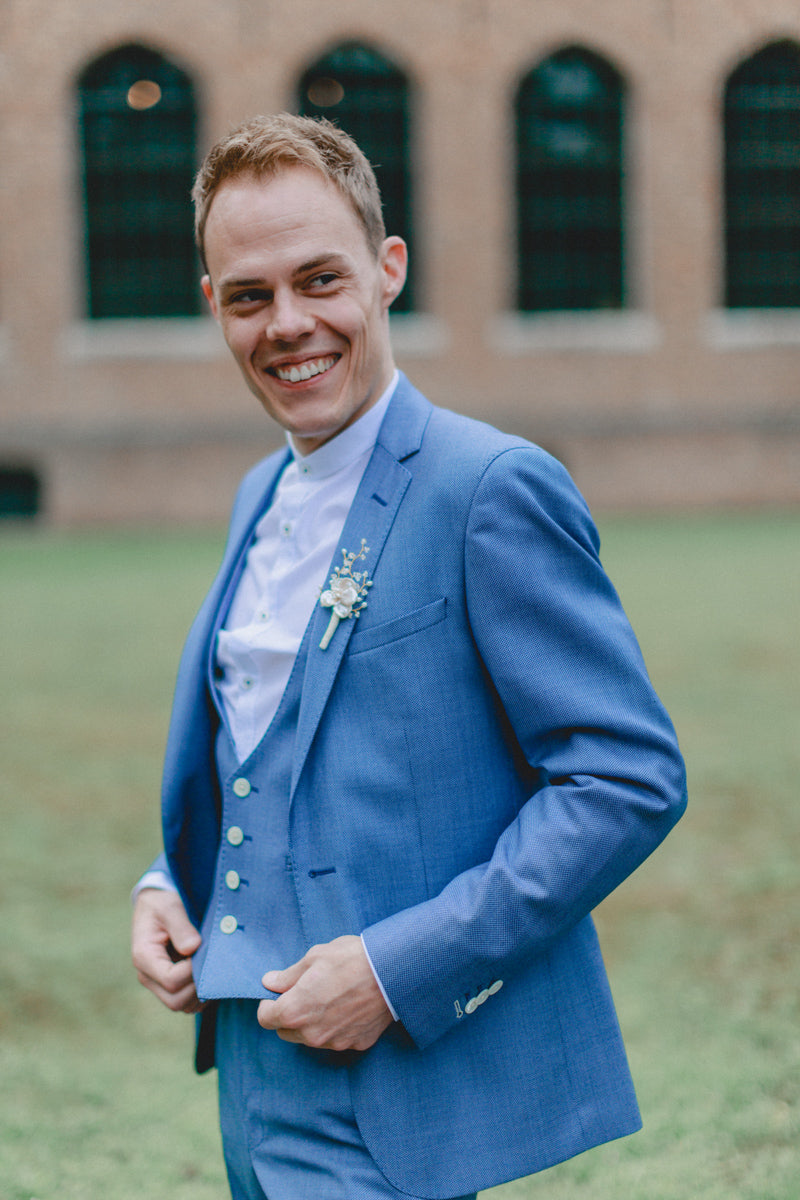 First look
FREDRIK: "One of the most thrilling moments of the day; Approaching my husband to be, eyes closed, not knowing how he was going to look like in his outfit and finally come together for this milestone day of ours. We shot at one part of the venue where also my family was accommodated, so I got to see them before I got to see Johan, which just made the excitement even bigger. Our witnesses were the only ones accompanying us for the first look shoot, and we had so much fun. Johan and stood together with the eyes closed and on a certain queue, we opened our eyes. And those feeling coming with the first look at each other. Laughter, tears, happiness and all sorts of emotions. Looking at the photos afterwards made me realise, that no words could have described the feelings but only the expression on my face."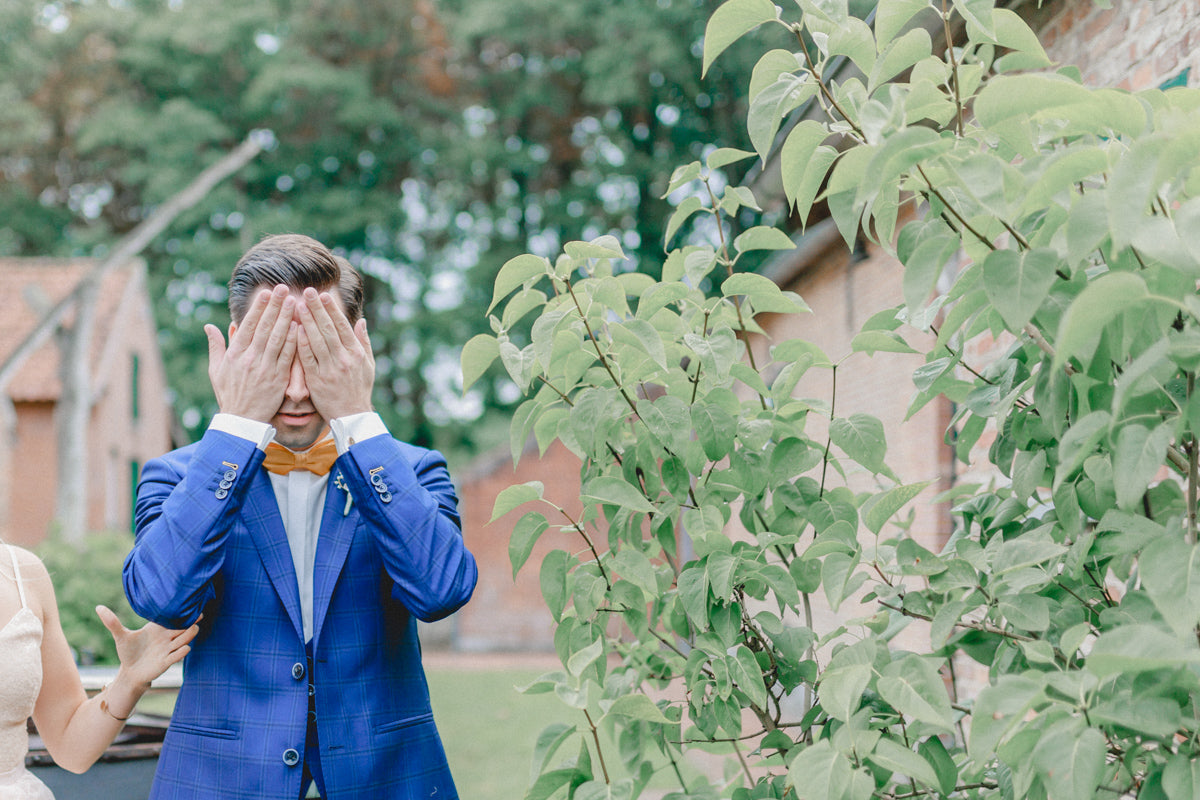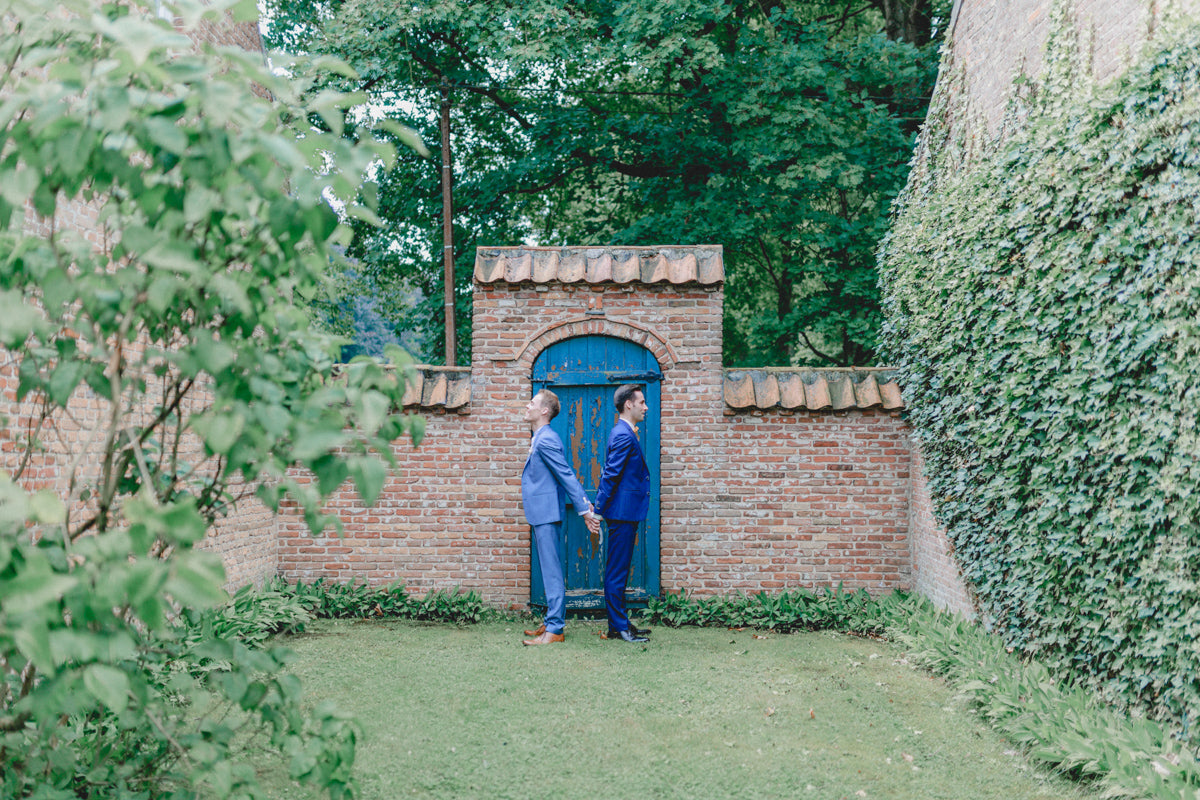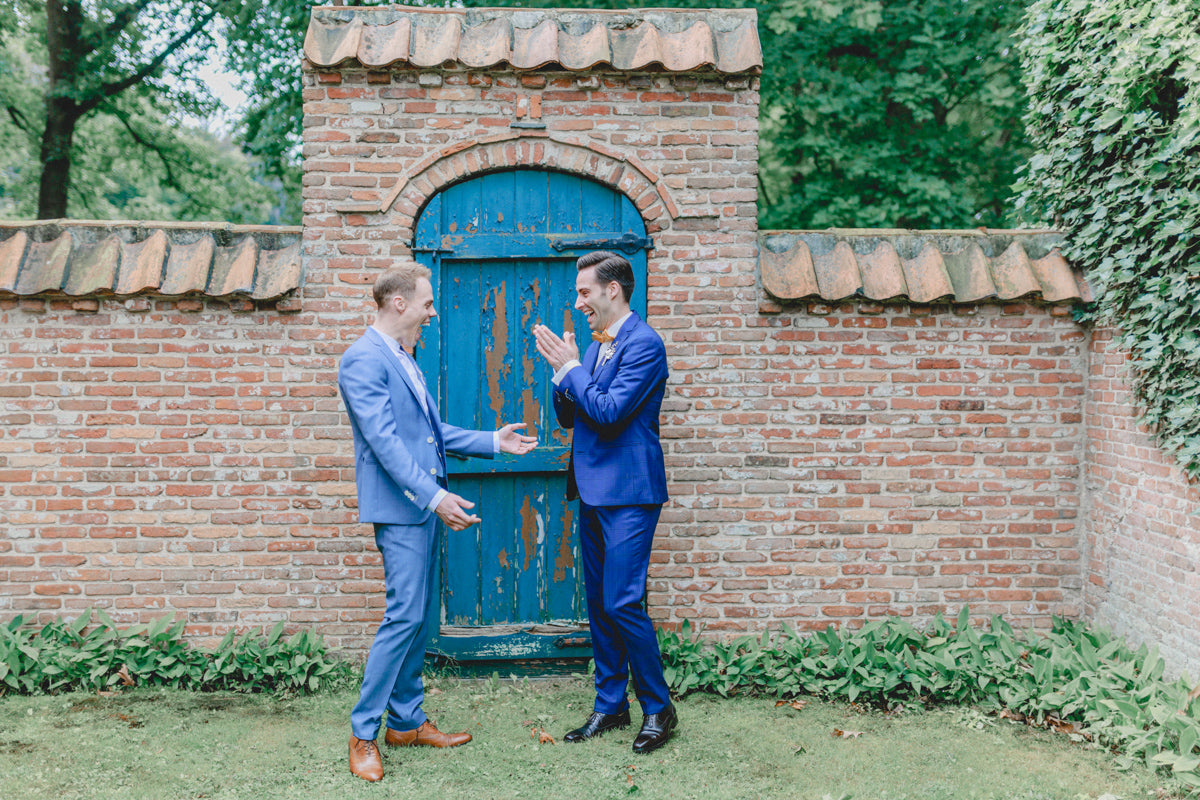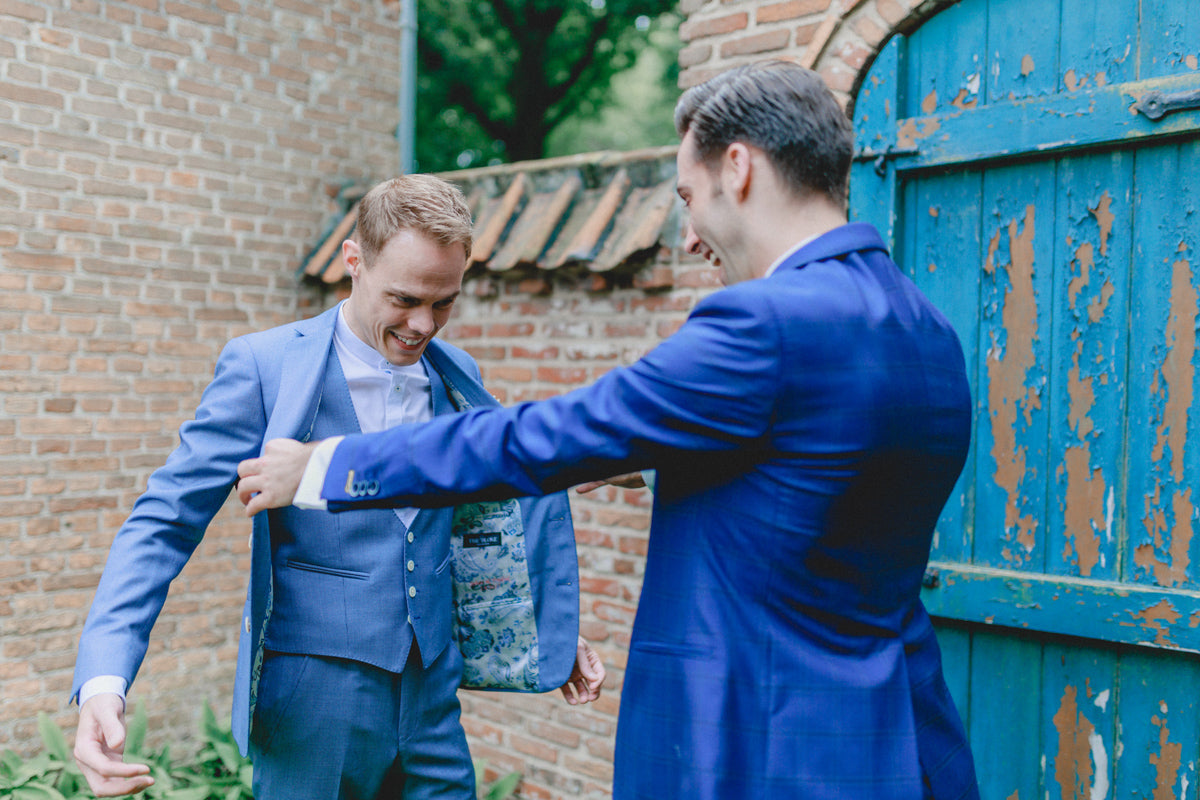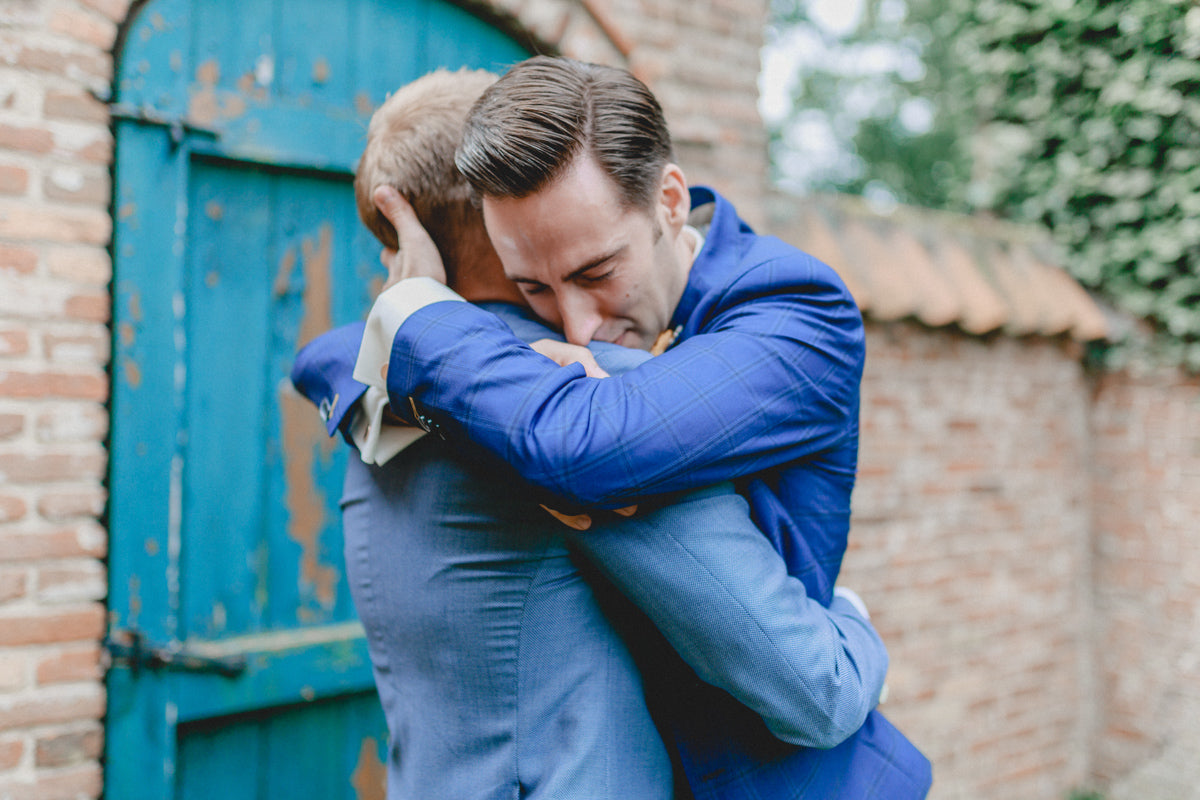 JOHAN "We are so happy to have taken the time out of our day to have this moment together because it was so worth it. It was a moment with so many emotions, butterflies, and happy feelings where we could look into each other's eyes to see that what we were about to do was the absolute best thing we could do."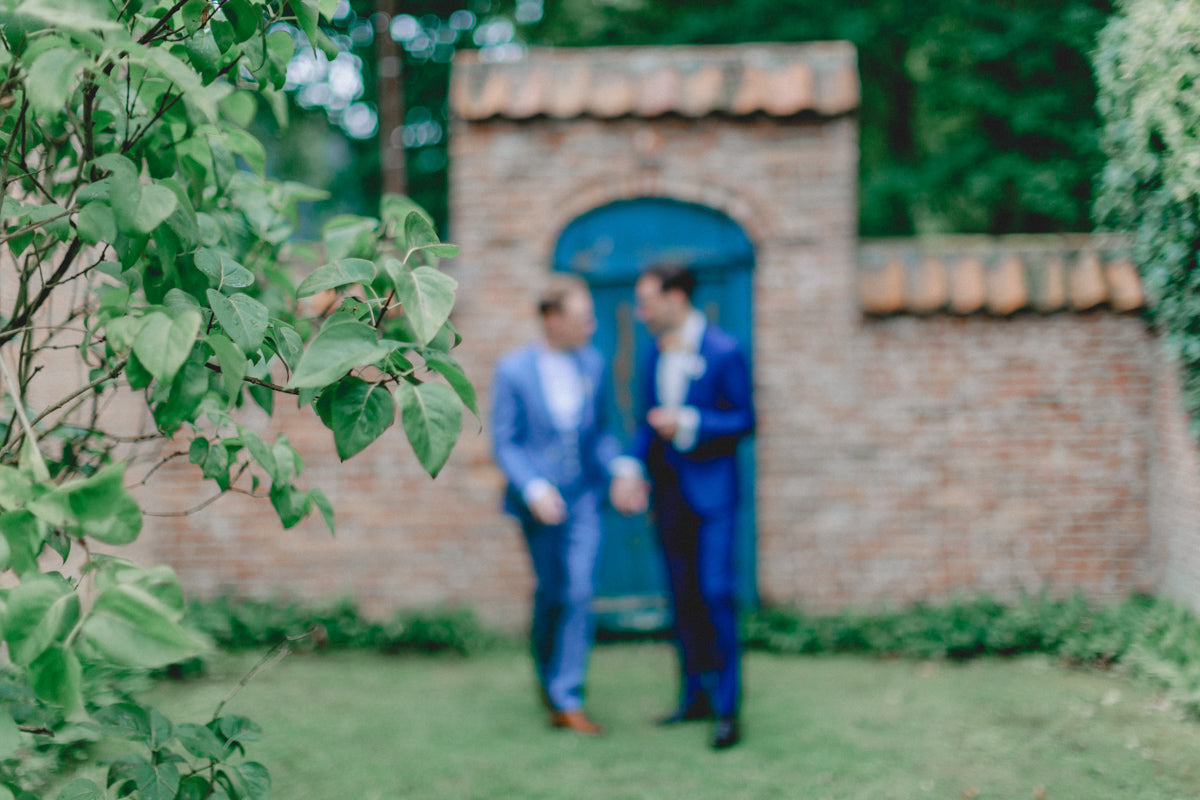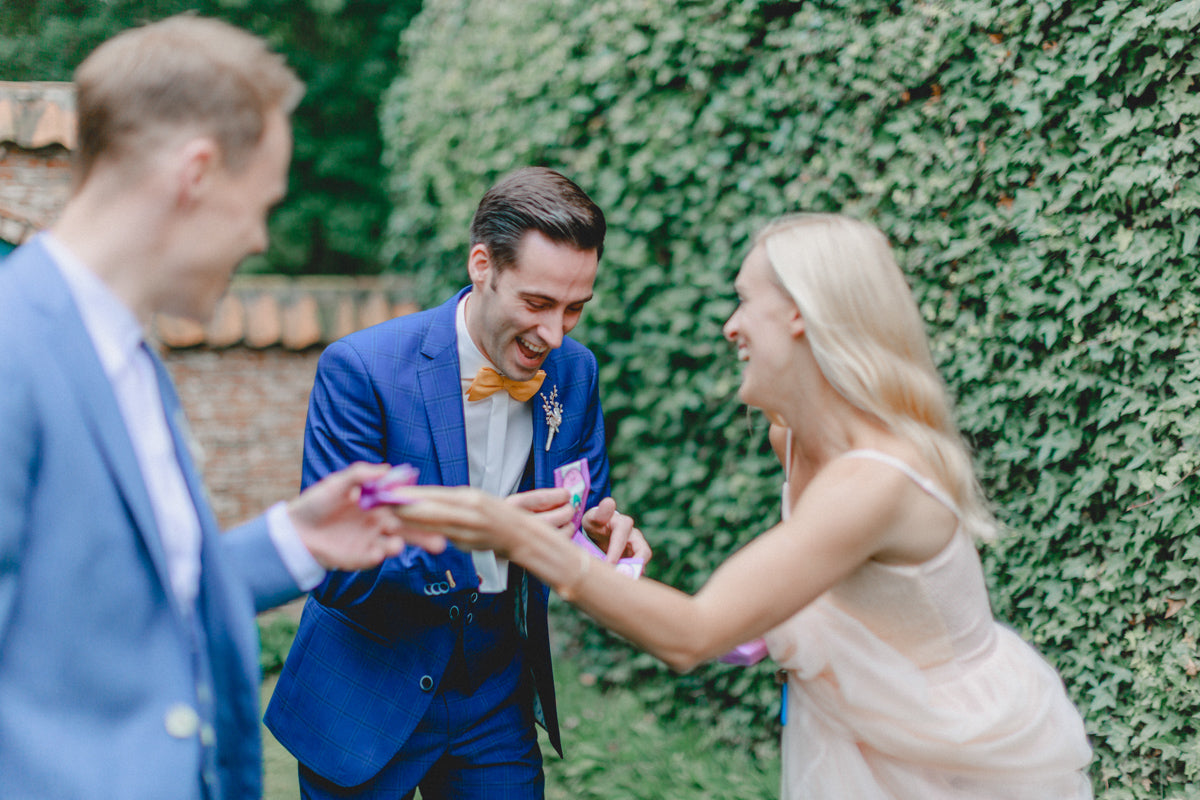 There's so much more to tell about our wedding day, which is why Fredrik and I decided to make this into a little mini blog post series where we'll take you through our day. To make sure you don't miss our next post, just sign up for our newsletter and you'll be the first one to know when anything new happens.
---
Photographer BINA TERRÉ | Weddingplanner FINE WEDDINGS & PARTIES | Fotografie Assistant CAROLINE RABE | Custom Suits & bow tie THE BLOKE | Boutonnière JUVELAN | Decoration & WEDDING & EVENT DESIGN STUDIO | NICNILLAS INK | Reception Entertainment JENNIFER SARAH BOONE & KIRILL VORWALD | DJ DJ DIETER |
Rings MICHAELA RÖMER | Catering VANDERSMISSEN FEESTSERVICE
BewarenBewaren
BewarenBewarenBewarenBewaren
BewarenBewaren
BewarenBewaren
BewarenBewaren
BewarenBewaren