At the beginning of this year, we shared with you how we got ready on the morning of our wedding day. Click here to find the blog post. Since then, we have moved from Stuttgart to Hamburg, worked on incredible jewellery for our lovely brides, collaborated with a number of stores and made sure that we have a new mini birthstone collection ready for you every single month. If you follow us on Instagram you might have seen that we recently went on our honeymoon. Away from our daily routines, we remembered our mini blog series about our wedding day. So, fasten your seatbelts, we're about to take you to the town hall where we officially got married and to our wedding reception.
Civil Wedding
After we finished getting ready and had the first emotional look at each other – you can read all about it in the previous blog post – we drove to the town hall where our civil wedding took place.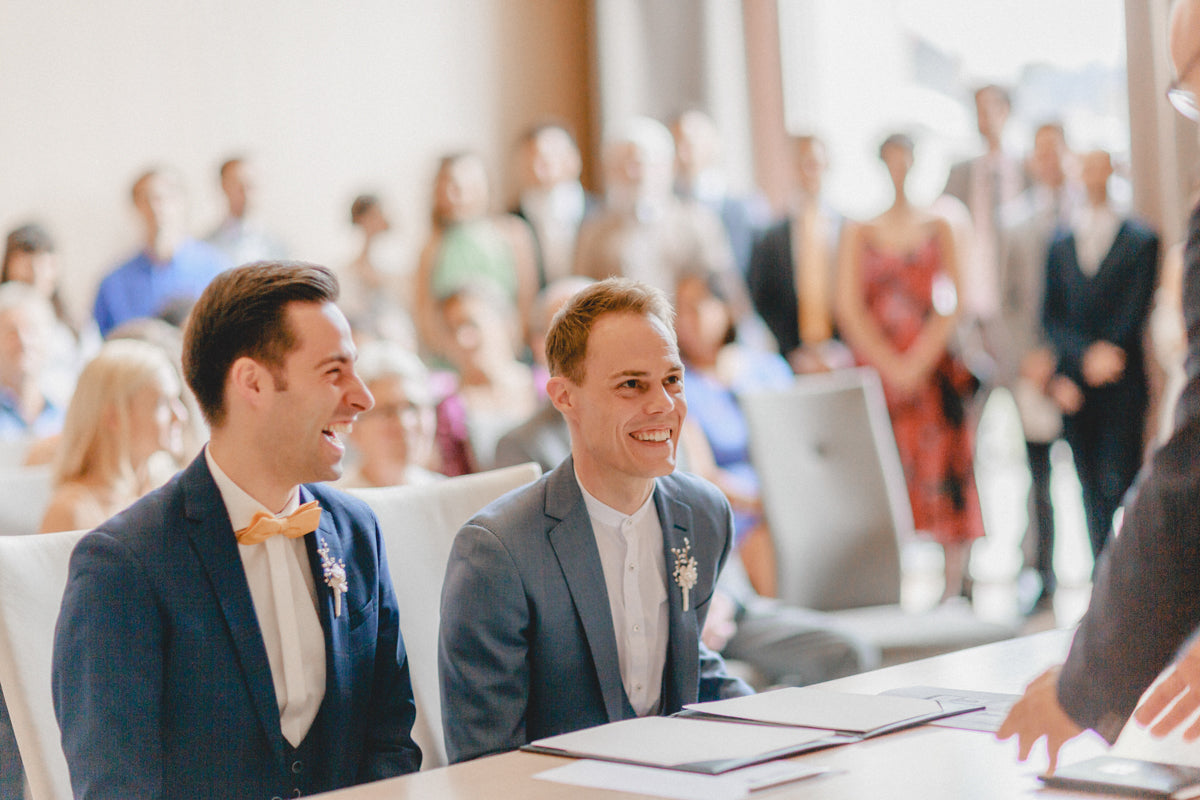 JOHAN "From when we arrived at the town hall seeing our families and friends who had come from all over Europe and even beyond to be with us was an exceptional moment for me. In the crowd, I recognised family friends and people I hadn't seen since I was little and who had decided to come to the town hall after they had learned that Fredrik and I were getting married. This filled my heart. We were escorted to the big room where our official wedding took place. Once the room began to fill with our guests, there was this incredible and tangibly emotional energy. Admittedly, I am a very emotional person and easily tear up when something beautiful or emotional happens. I cried so many happy tears throughout the entire day because everyone and everything made me feel very grateful and genuinely happy because I could not believe all of this was happening.
We decided to keep things simple for our civil wedding and have the normal "wedding package".After the formalities and legalities were read, we signed the papers and heard the words: "You're now officially husband and husband. Congratulations!" (Those were not the exact words, but we were so overwhelmed that we can't remember what was said.) We were overcome by the cheering and applause from our guests which went on for a very long time while I obviously broke into tears again. Even the registrars who married us told us afterwards that they had seen a lot, but couldn't recall the last time they witnessed such a long, loud and passionate applause during a civil wedding."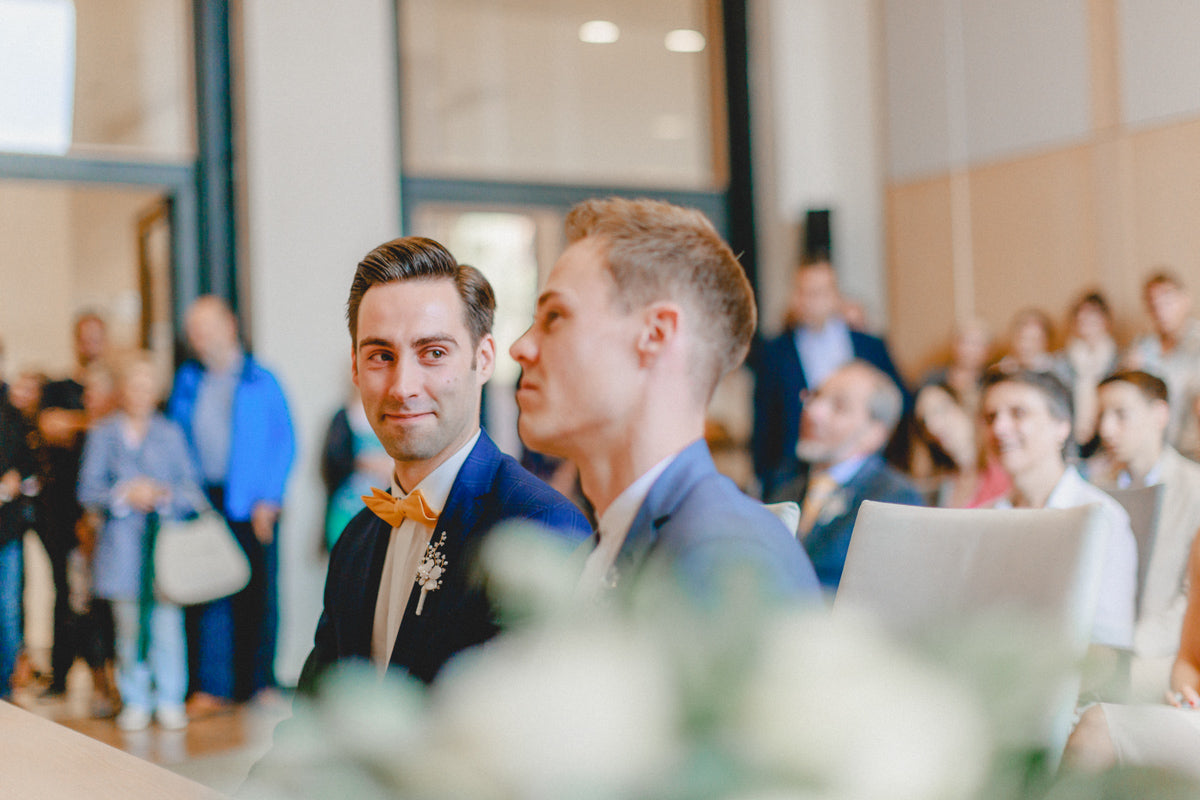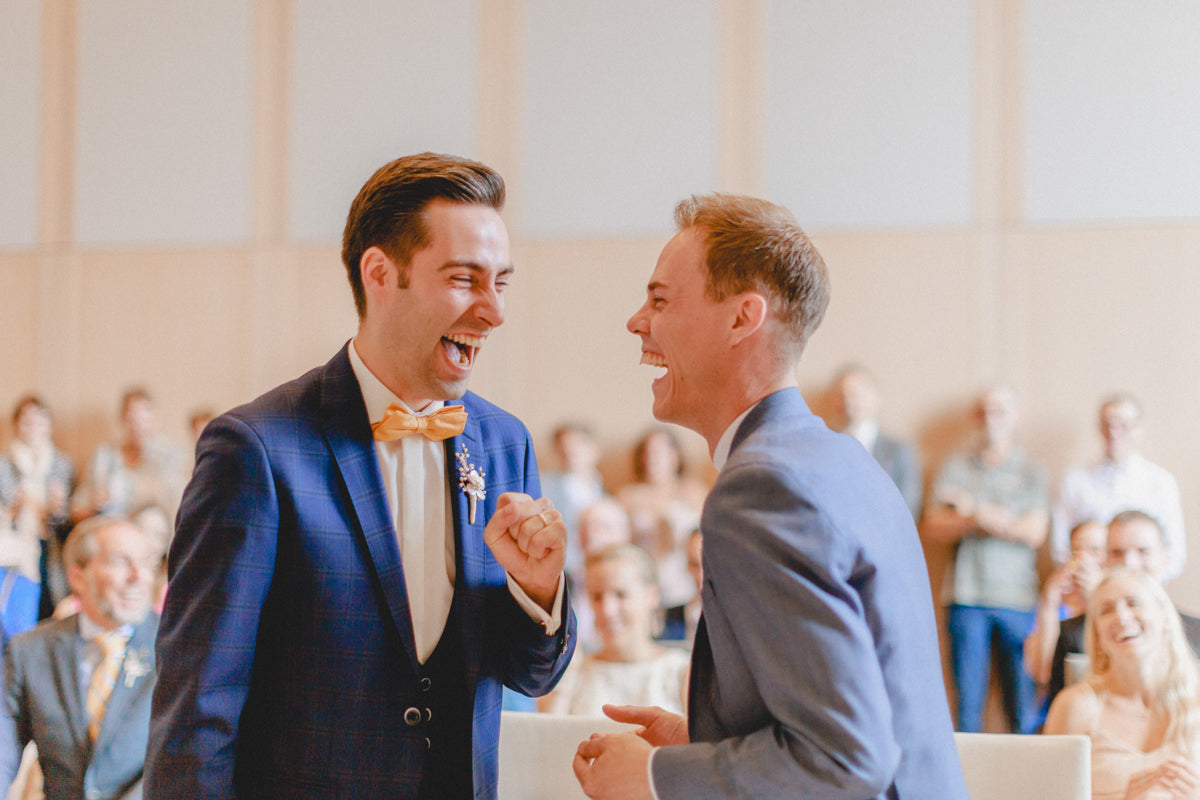 FREDRIK "As we arrived at the marketplace in front of the town hall, we met a group of people we hadn't seen before, and I thought, "they are here to celebrate with us?! Awesome!" Then I realised Johan and I weren't the only ones getting married on this day. It felt like all those people had gathered to simply celebrate love. As we stepped into the long hallway of the town hall, I got a glimpse of all our friends and family at the other end of the hall. As we approached them, we were met with applause and lots of cheering. It was so surreal to see the mix of people we know from so many different parts of our lives. As we headed up the stairs towards the ceremony hall, I choked up seeing even more people inside.The hall was filled with what felt like all our guests for the day, even though many had initially told us that they were only going to make it later on.We were told the town hall had never seen that many people attending a civil ceremony. Some might think that a civil ceremony is boring, dry and simply something to cross off your list – at least, I did. But somehow the whole atmosphere was incredibly relaxed and turned out to be a very emotional and laughter-filled moment. Even the marriage registrar felt the relaxed atmosphere and allowed himself to make a few jokes here and there."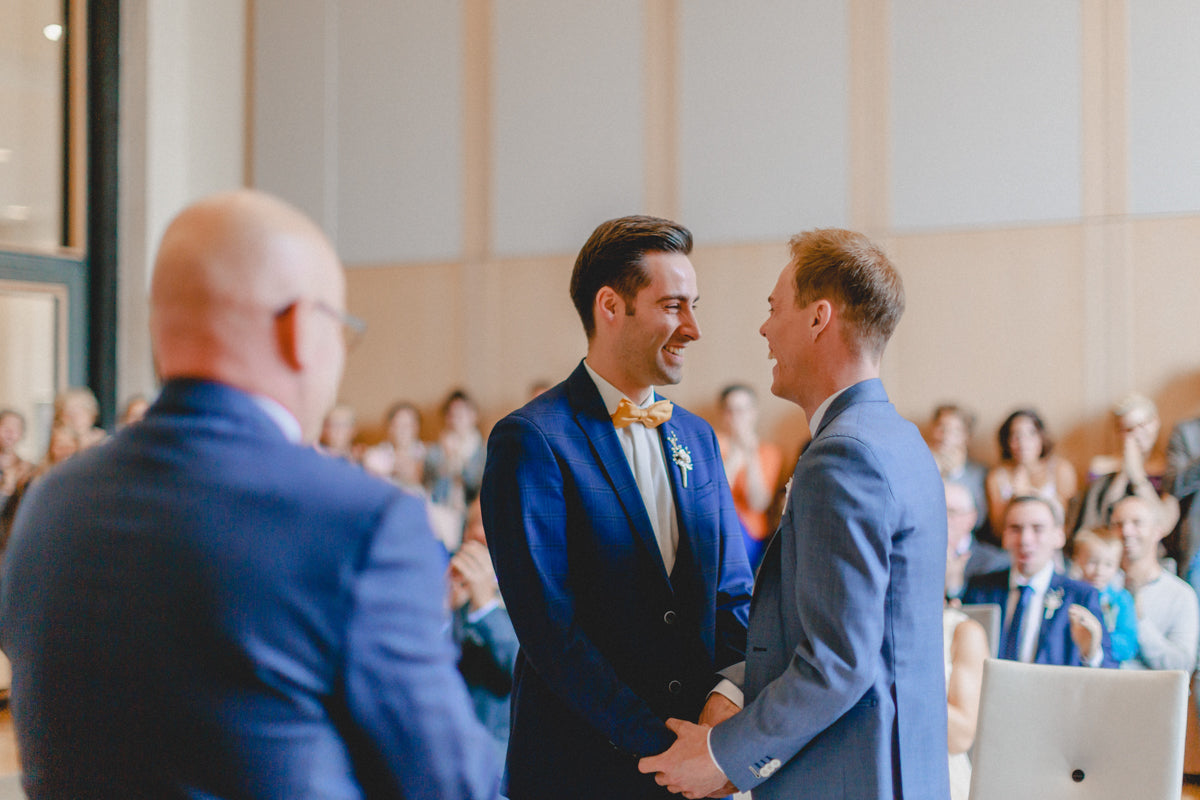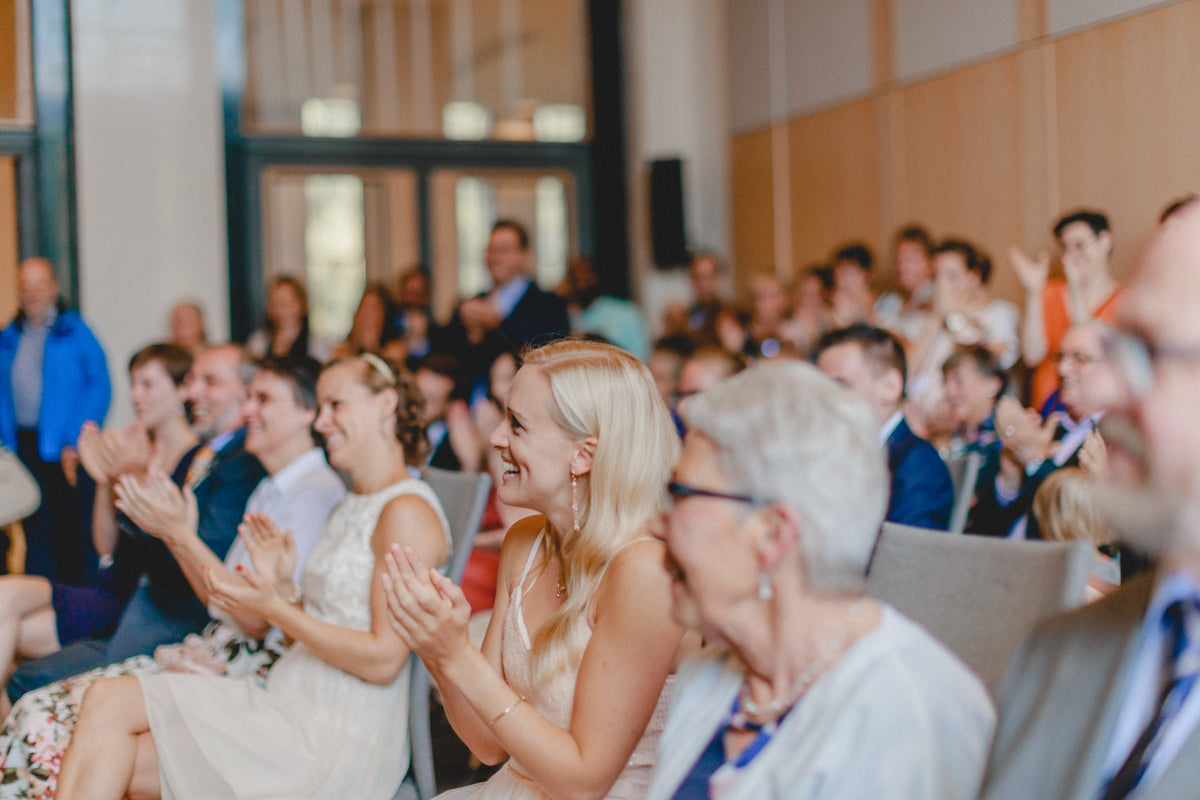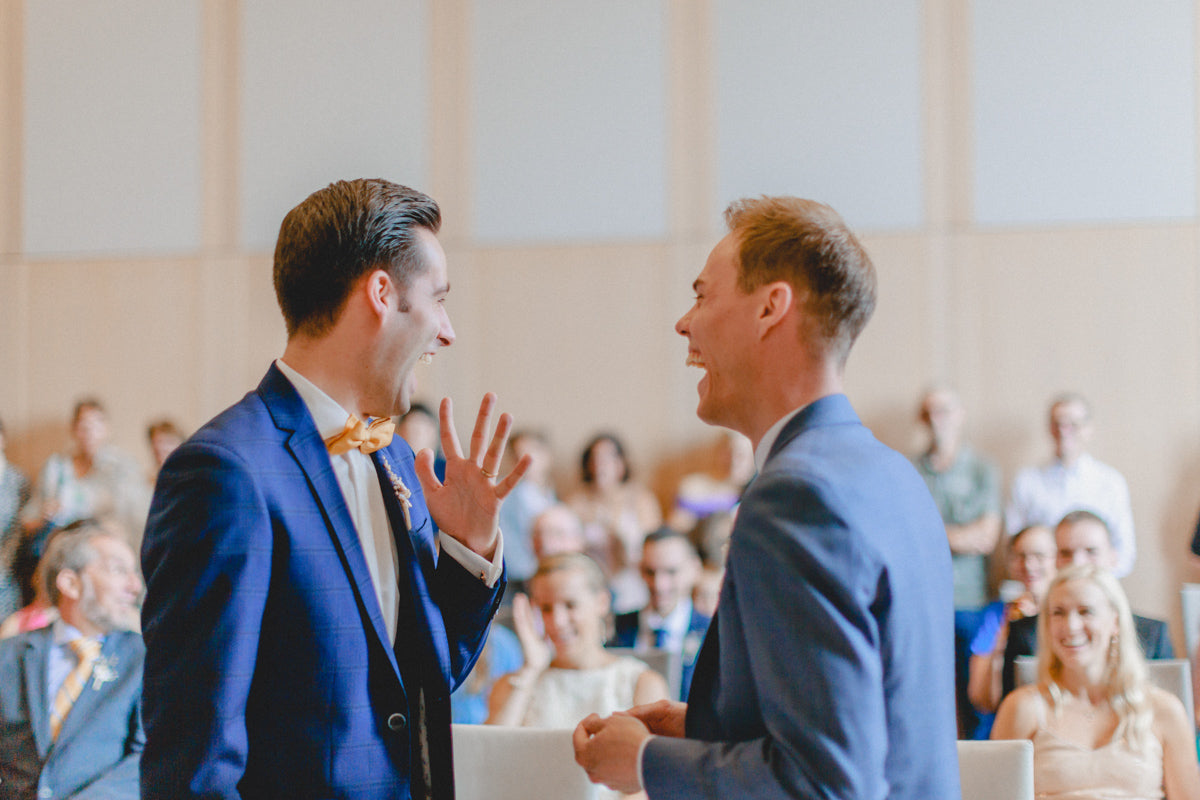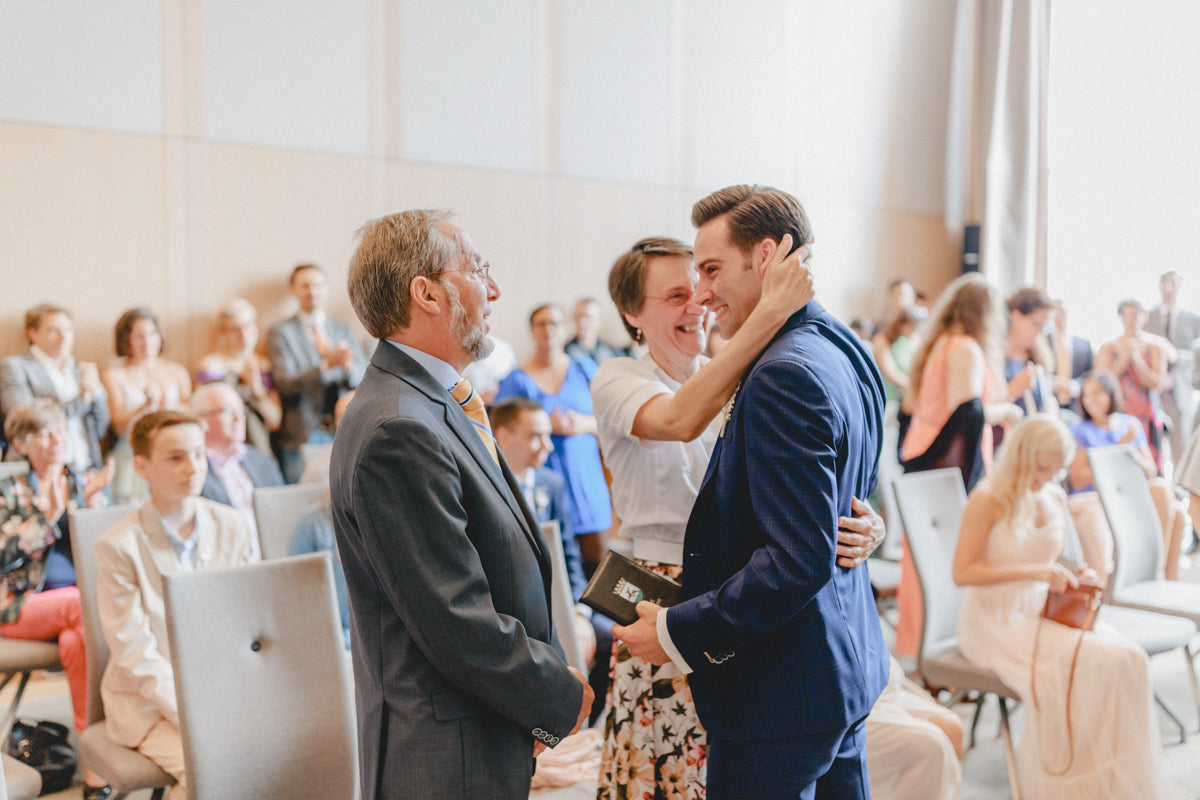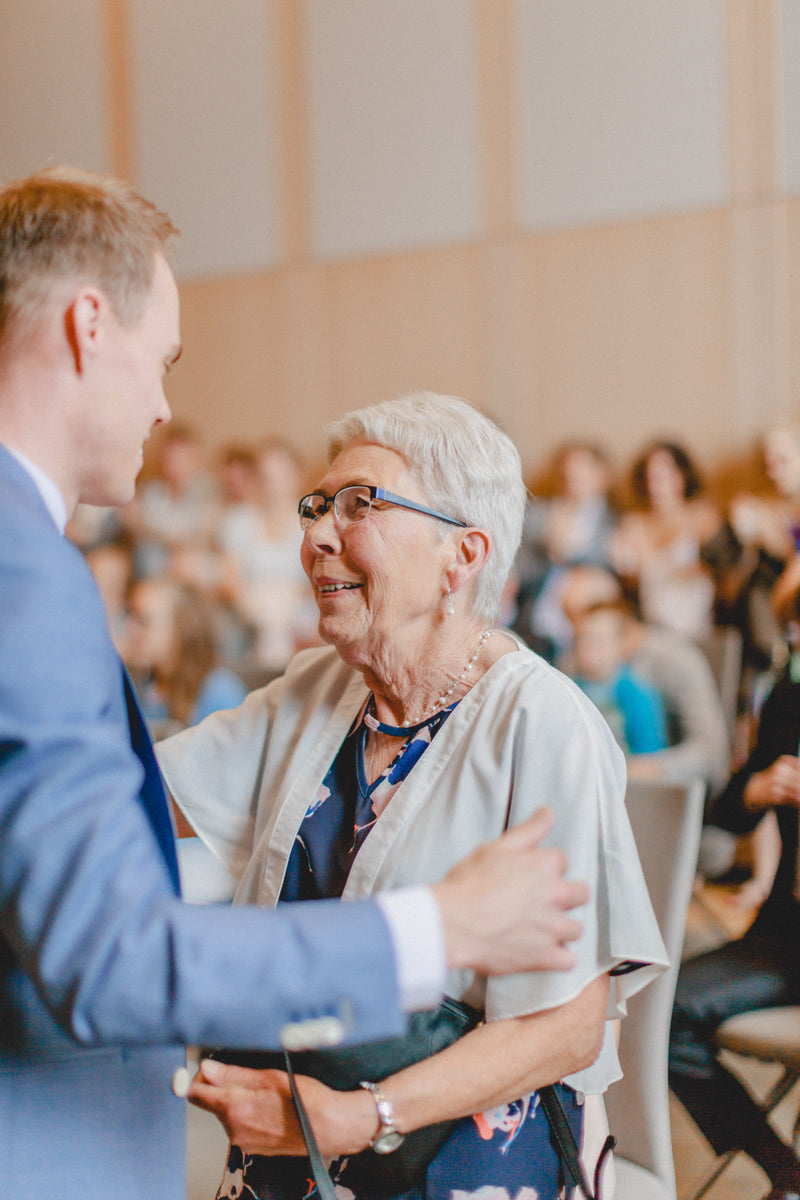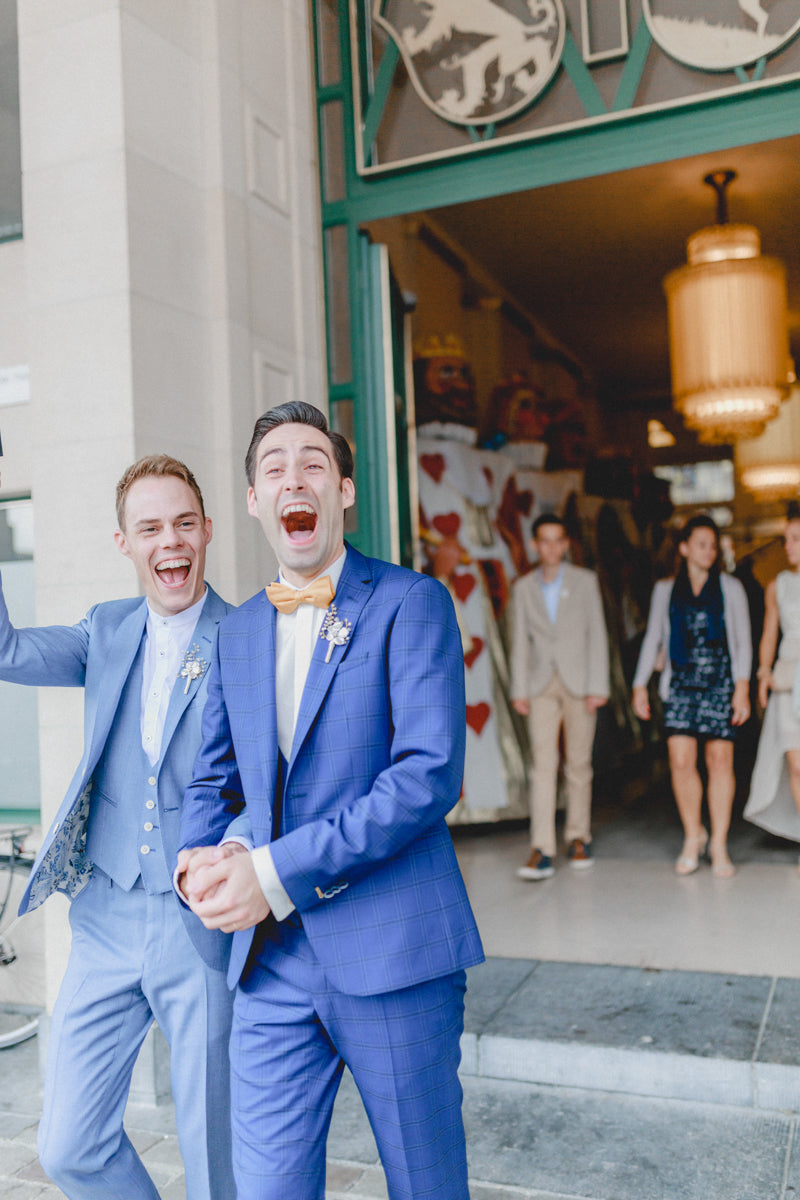 Reception
FREDRIK "I honestly have to admit, I don't remember how the reception officially started. I think it's because I was driving our car myself after the ceremony and because we had an intimate little family lunch before this part of the day started off. What I do remember is that after a sunny start to the day, the clouds gathered above the garden where our ceremony was to be held and all of a sudden it started pouring with rain. In the corner of my eye, I saw staff running around, moving tables, flower decorations and food to stop everything from getting wet. Everyone had to squeeze in under the only outdoor roof there was, but luckily it turned out to be just big enough for the 160 reception guests. And honestly, it was very charming to be standing under a roof to greet all our guests – it somehow made it very personal. We were very relieved and happy when the clouds disappeared, and the guest were finally able to spread throughout the whole garden and enjoy the sun. Lucky for us, the rain never returned. It was our lucky rain! It never felt crowded with all the people, but I do wish I had a little bit more time to speak to every single person. That's part of getting married, I guess.We wanted to have a very relaxed reception with drinks and canapés, and we organised some fantastic live music from the wonderful Jennifer Sarah Boone and Kirill Vorwald to create the perfect atmosphere. I loved every moment of it."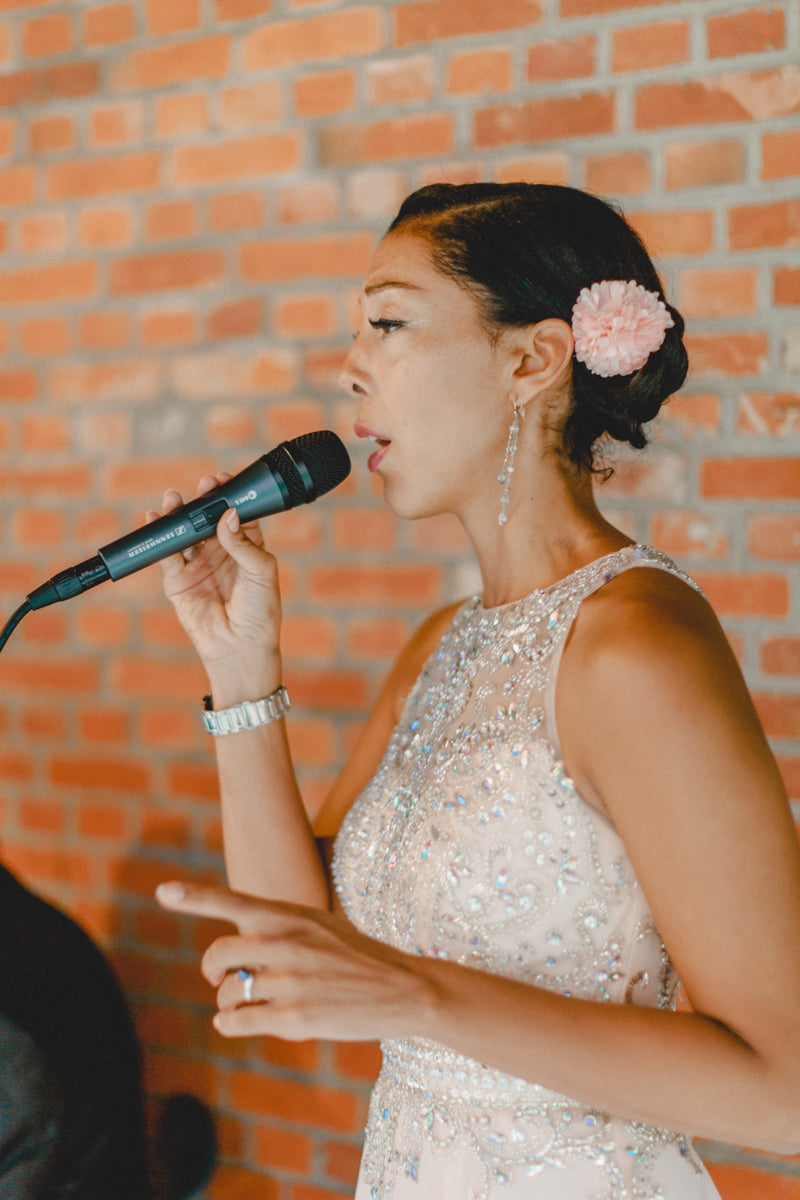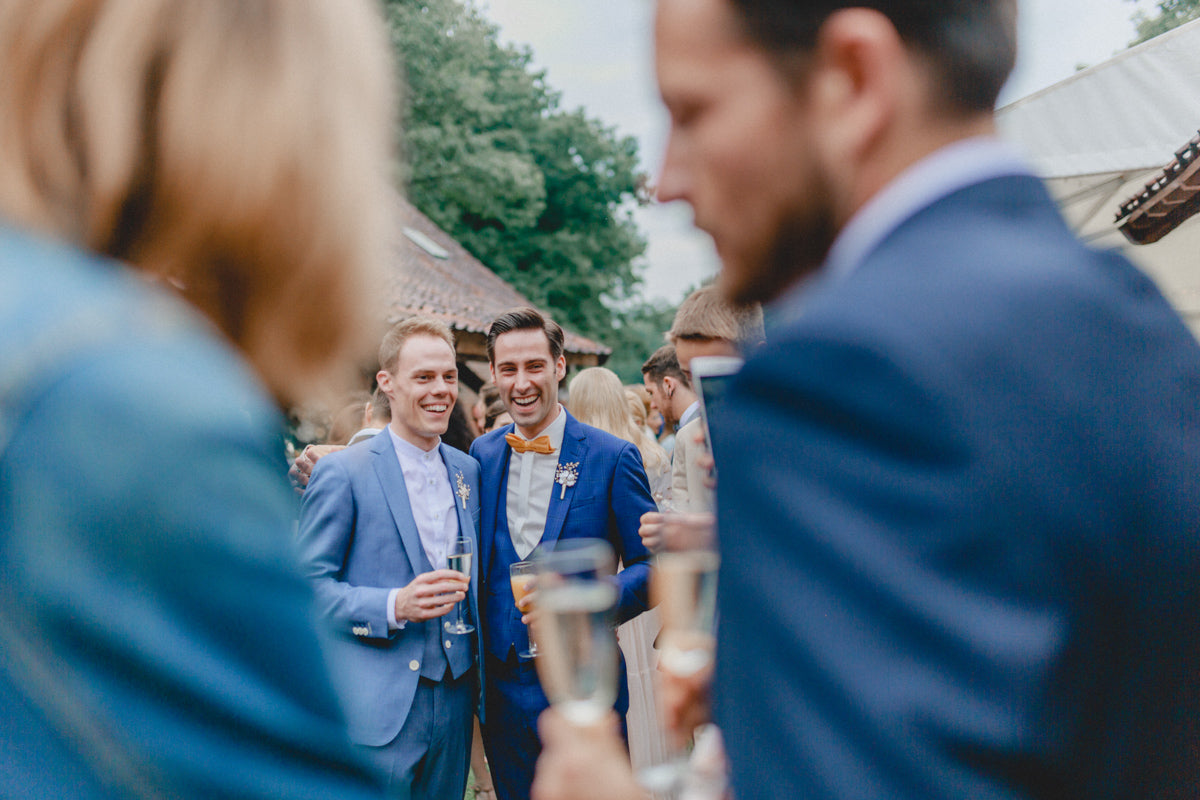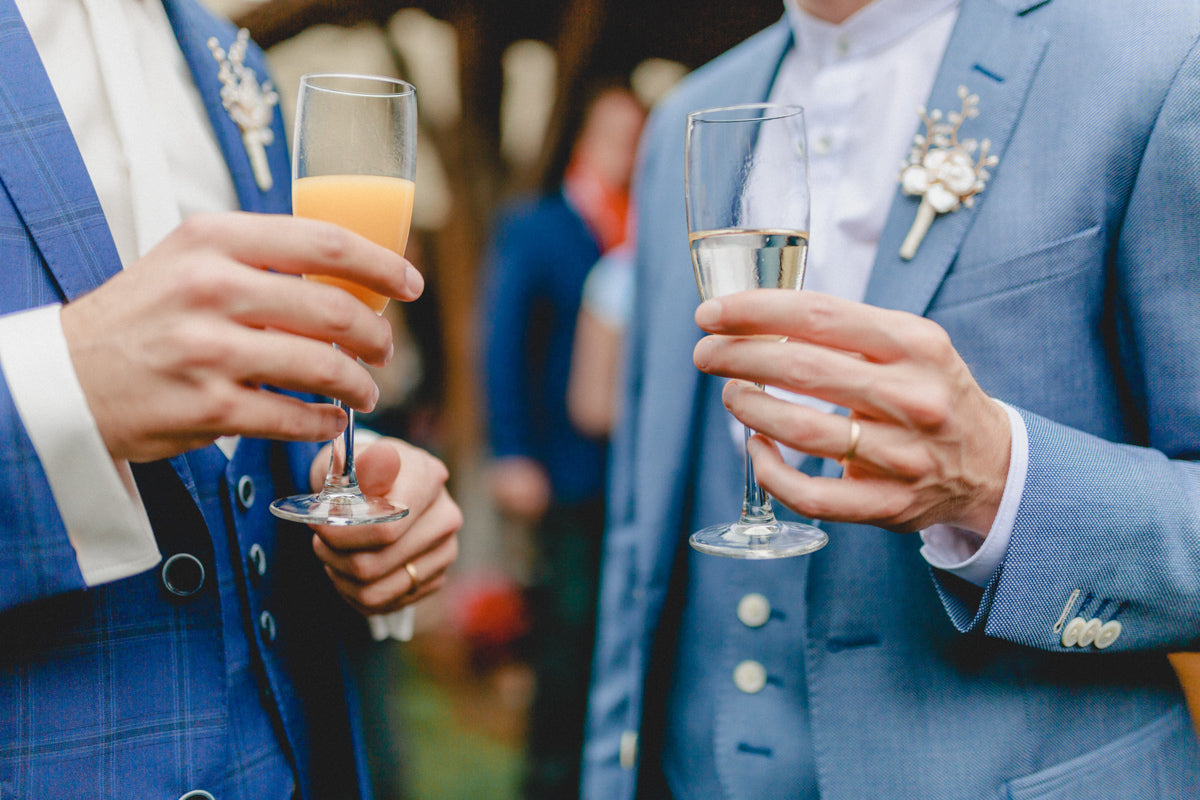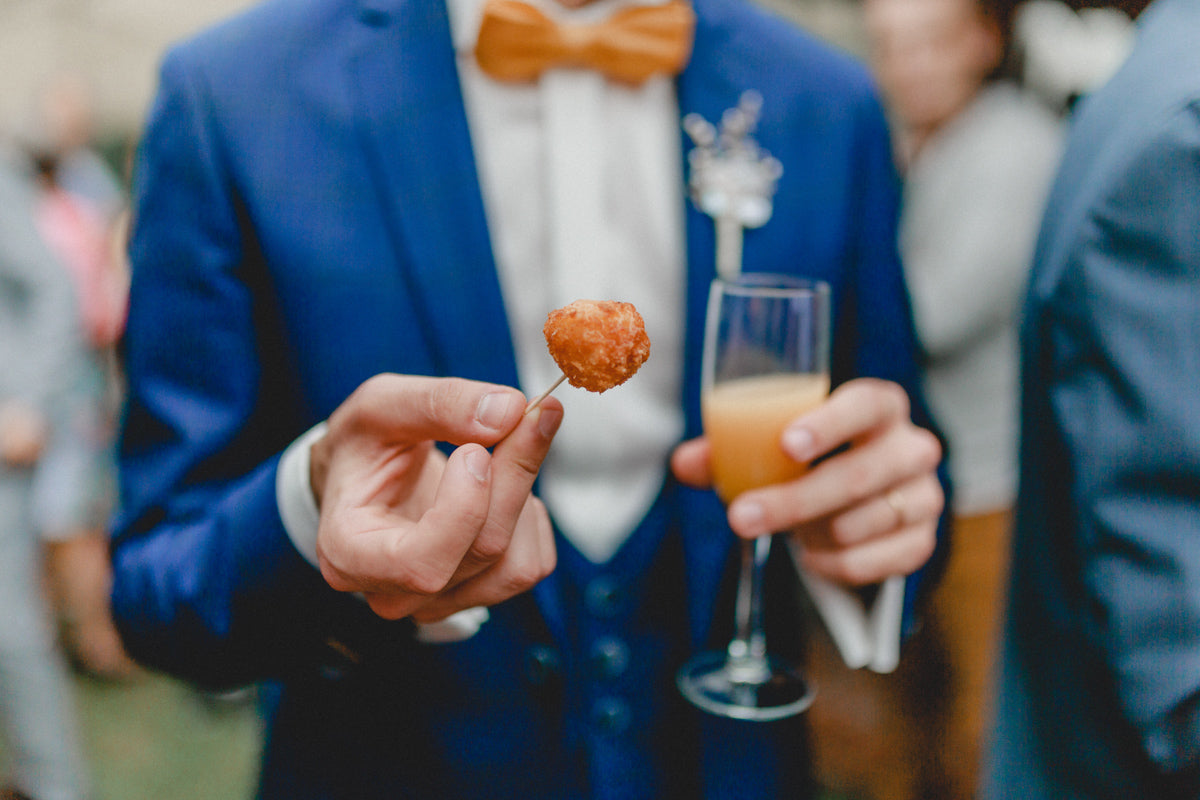 JOHAN "The wedding reception left a huge impression on me because so many family members who I've known since I was little but hadn't seen for years were there to celebrate with us. It was an afternoon full of surprises, conversations, rain, sunshine and traditions. Just like Fredrik I wish I'd had the chance to speak to every single person who was there a bit longer. Two events occurred during the reception that touched us most. The first surprise came from my uncle and his wife who are in the process of filming a documentary about a beautiful artist called Steven Luca. Little did we know that they organised for him to perform an act at our wedding that every single one of our guests could enjoy, no matter what language they spoke. He made such an impression on us and left everyone with a big smile on their face. It's one of those things that are hard to explain because words could not describe the beauty and humour of what he did. If you ever have the chance to see him, do.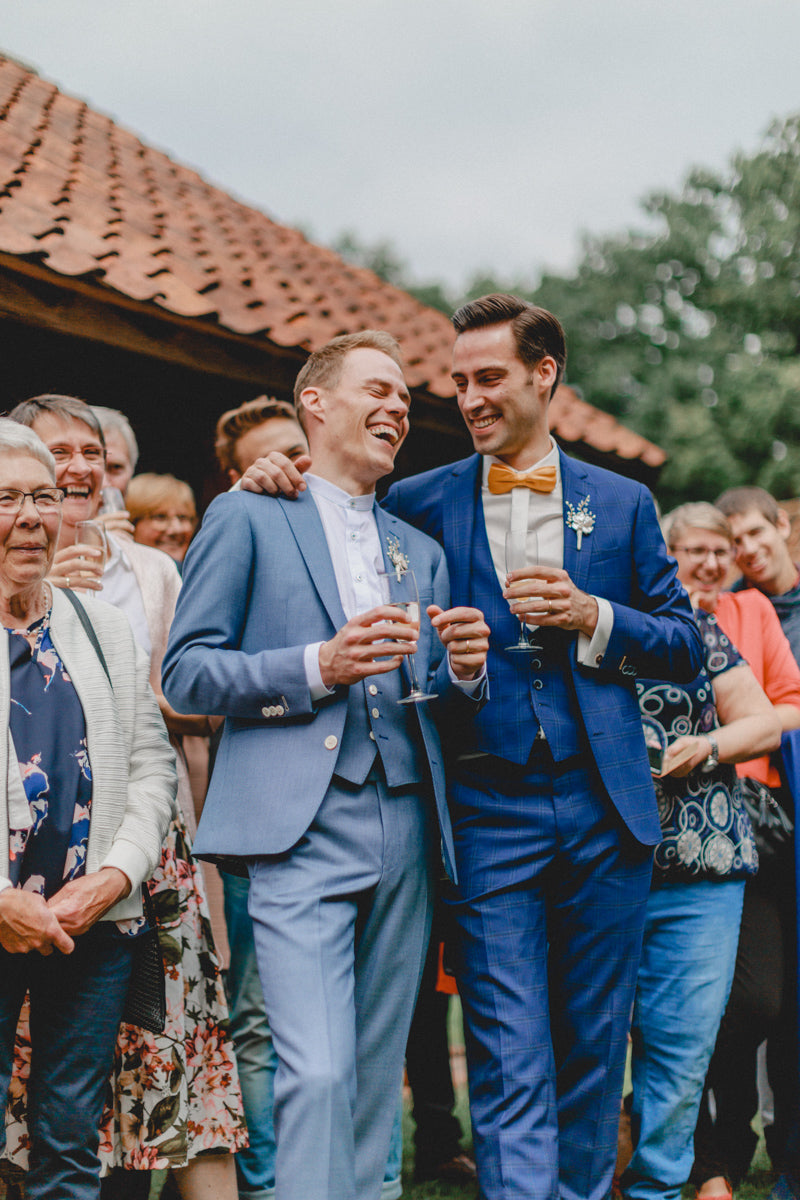 The second surprise was a family tradition – yet it came out of the blue for us. I'll try and explain the background shortly. The location where most of our wedding day took place is over 200 years old and has been in our family for a very long time. Back in the days when I was a little kid, we used to live there, and it was absolute heaven. After we had moved to the nearest city, the estate became a location for family events, parties, celebrations, weekend getaways etc. Over the years, it has become a family tradition amongst our cousins to celebrate our family's weddings at this very place. Because we love good old traditions, this one stands out because the thought behind it is lovely and shows how amazing our family is.  During the reception, my uncle and godfather suddenly took the microphone and explained the tradition to everyone at the reception. We received a flag in the colours of our wedding invitationand with our wedding logo on it. The thought behind it was, that every year on our anniversary, we should raise the flag – if possible on the wedding location – to celebrate another year of marriage and to think back to the incredible day we had with our friends and families. When the reception slowly came to an end we said our goodbyes to the people who travelled back home.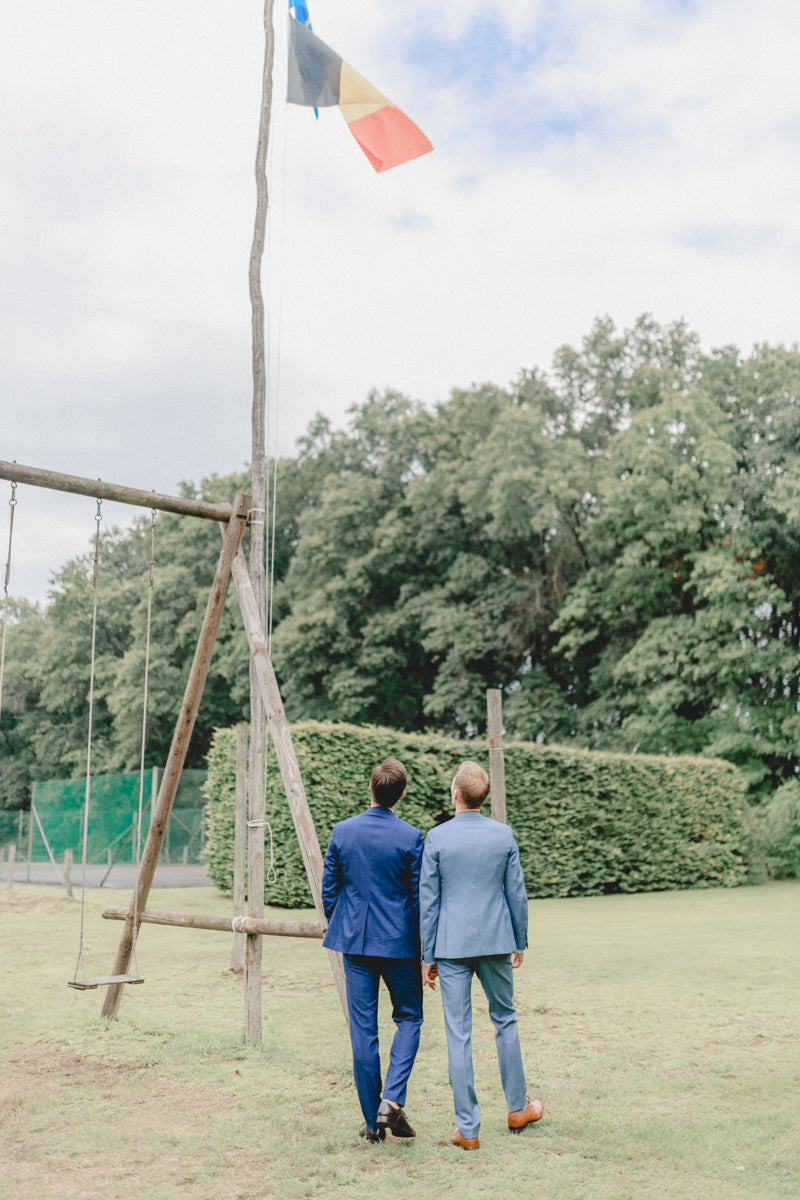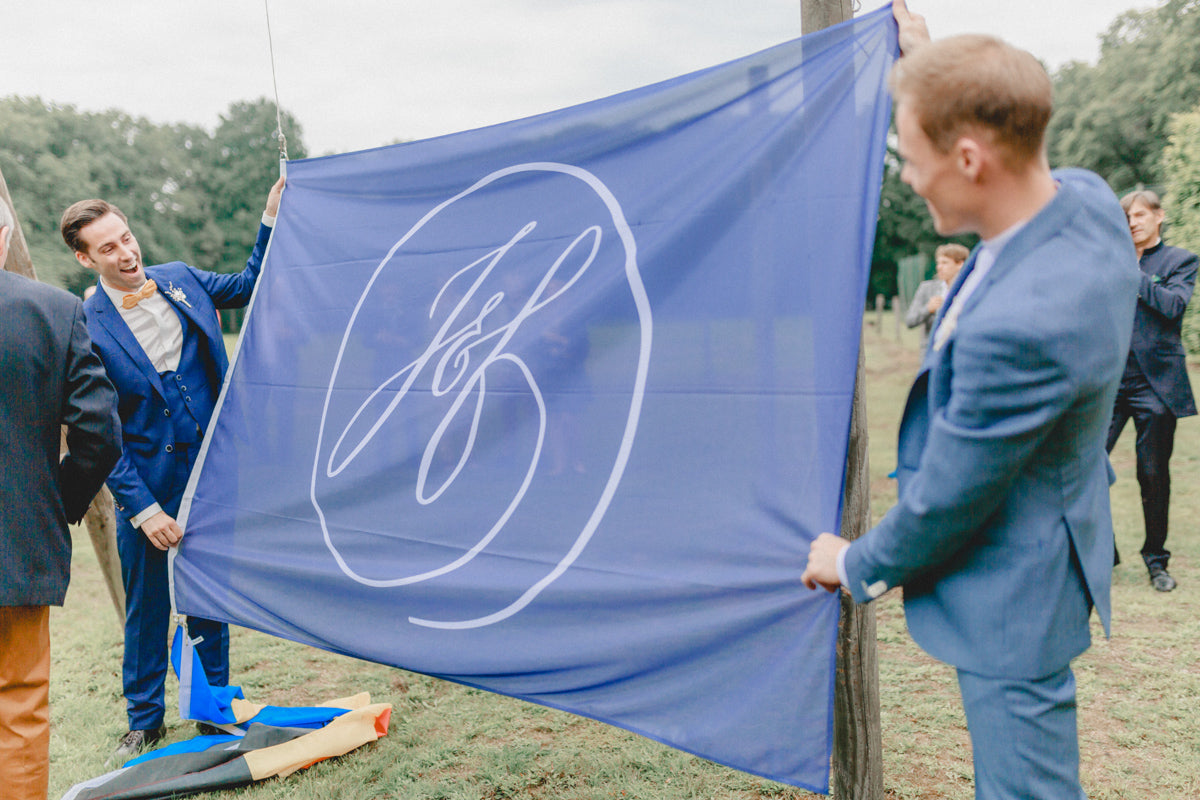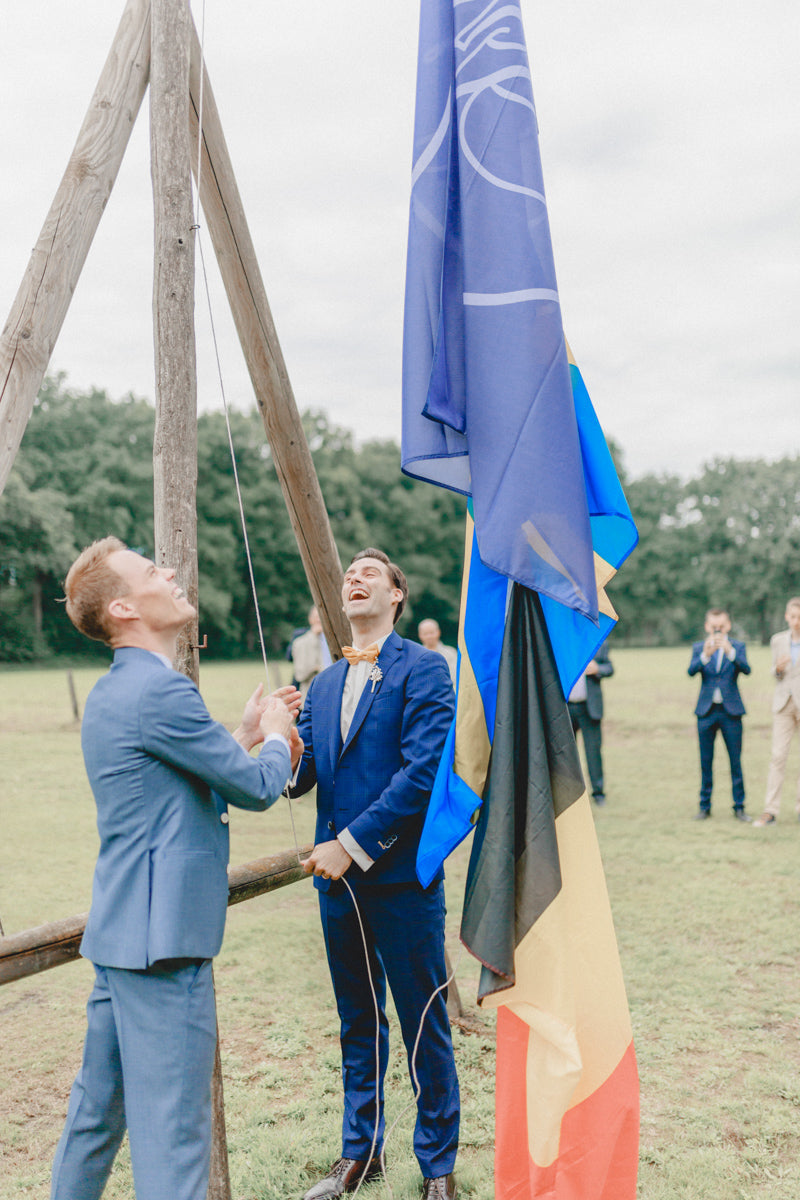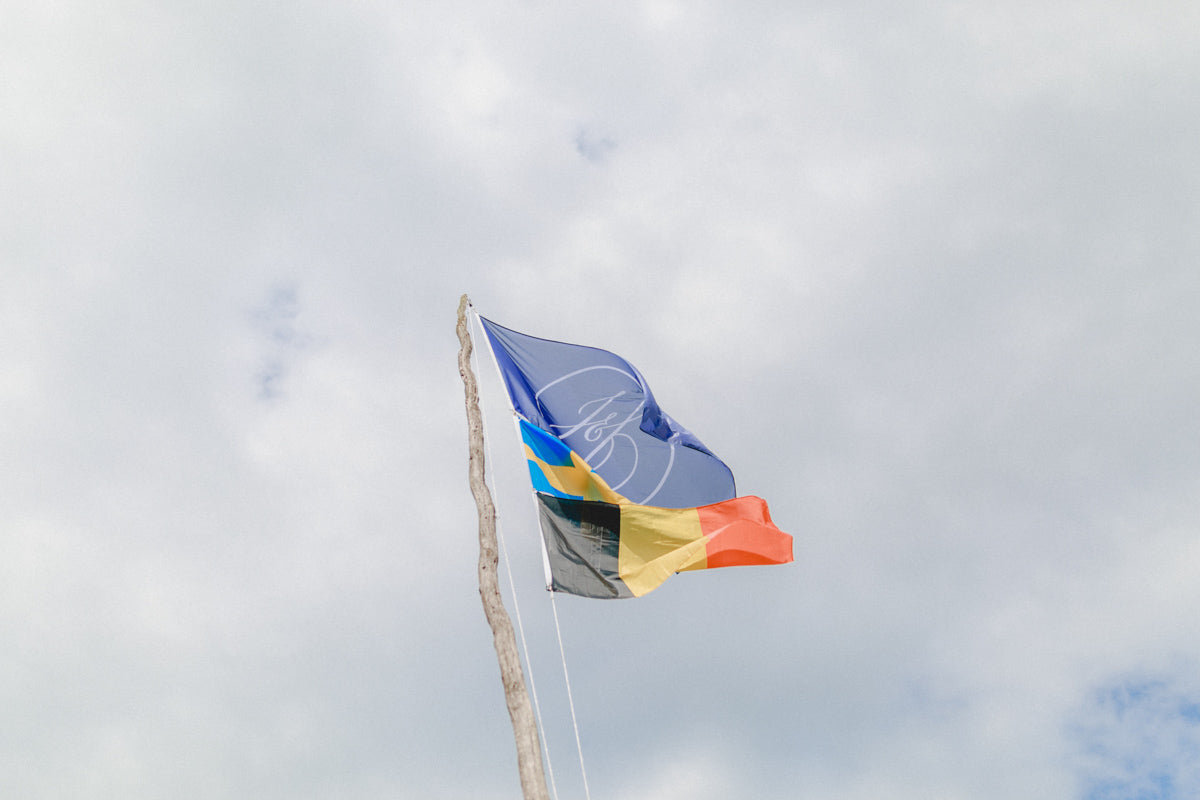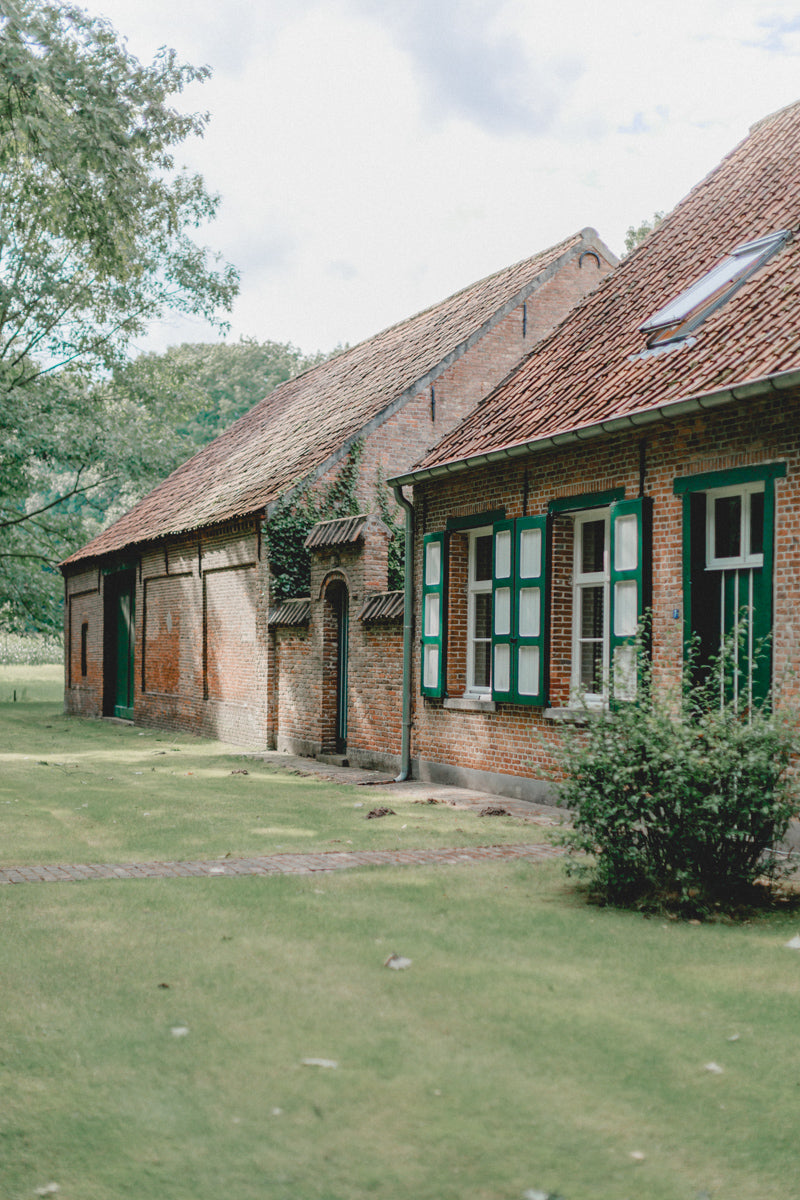 I think this has turned out to be one of the longest blog posts we've ever written. So, if you've made it this far you might want to keep an eye on our blog dedicated to the next part of our wedding day. If you don't want to miss it make sure you subscribe to our newsletter. This way, we will let you know when there's a new blog post on our blog. You will also receive special offers and we can make sure that you will be the first to know when we have news – even before we tell anyone on Facebook or Instagram.
---
Photographer BINA TERRÉ | Weddingplanner FINE WEDDINGS & PARTIES | Fotografie Assistant CAROLINE RABE | Custom Suits & bow tie THE BLOKE | Boutonnière JUVELAN | Decoration & WEDDING & EVENT DESIGN STUDIO | NICNILLAS INK | Reception Entertainment JENNIFER SARAH BOONE & KIRILL VORWALD | DJ DJ DIETER |
Rings MICHAELA RÖMER | Catering VANDERSMISSEN FEESTSERVICE