We present our new jewellery line "Bridal Classic" 
The classically beautiful "Bridal Classic" designs draw on the romantic love for detail of the 2018 collection. Timelessly elegant necklaces, earrings, hair accessories and a bracelet expand the existing collection and can be combined with existing pieces. The current focus is on precious freshwater pearls and sparkling crystals.
A real classic: these timeless earrings made of freshwater pearls should be part of any jewellery box as they lift and enhance any outfit.
For weddings, they symbolize timeless elegance and create a charming eye-catcher, all without taking centre stage. 
For these extraordinary earrings, we have created a modern, extravagant silhouette but used the traditional bridal jewellery materials pearl and crystal. A large, white baroque freshwater pearl – each entirely unique, no pearl resembles another – descending from chic, crown-shaped stud earrings made of five elongated Swarovski crystals.
They are a perfect jewellery piece for a bride who is aware of traditions yet keen to step out of the crowd to go her own way.
More enduring than a bridal bouquet, these gorgeous pearl earrings with their eye-catching flower-shaped crystal stud will make every bride shine.
Whether as a romantic highlight to an elegant wedding dress or to perfectly complement a boho look with real flowers in your hair – these earrings are subtle due to their size while their extraordinary shape creates a unique eye-catcher for your special day.E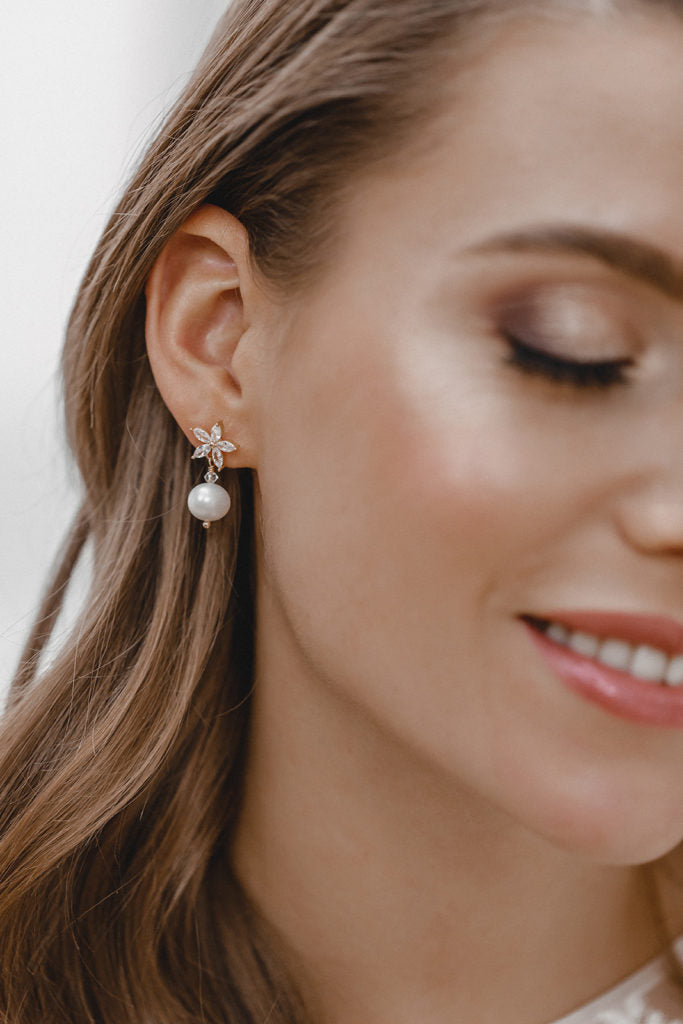 You don't want to wear opulent, striking jewellery on your wedding, but still find a statement piece honouring this special day? These long delicate earrings descending five small Swarovski crystals might be the perfect choice for you. They are guaranteed to catch everyone's eye without seeking attention. 

Precious freshwater pearls and light-reflecting Swarovski crystals are gathered in finest craftsmanship to make a jewellery dream come true. These classic and opulent earrings flatter any face shape and are the perfect accessory to make a lasting impression on your big day. They are particularly striking when worn with an up-do or with short hair, but they also accentuate a boho style with long hair worn down.
Delightfully calm and effortlessly timeless. A classic handcrafted bracelet made from high-quality freshwater pearls threaded to create an elegant eye-catcher.
Thanks to its simple elegance, this bracelet will be a perfect addition to your wardrobe reminding you of your special day every time you wear it.

A delicate necklace suspends a charming pendant of five small Swarovski crystals.
Subtle, delicate and unpretentious, this necklace is the perfect choice for brides who prefer a classically understated look and want to emphasize their elegance with jewellery that catches your eye without being overbearing.
  
This timelessly feminine necklace with a single freshwater pearl and – as a crowning glory – a sparkling Swarovski crystal drop will aim straight for your heart.
A classic necklace that will give any bride festive elegance while maintaining a very natural look.

A dream for a boho bride: a romantic head-dress with differently sized freshwater pearls and sparkling Swarovski crystals, delicately interwoven across three rows.
This piece is a true all-rounder that opens up a variety of looks and works with every kind of bridal hairstyle. It can be tied at the back, fixed to only one side, leaving the delicate branches on the other side free or individually worked into your hairstyle. Wear it YOUR way! This versatile piece of dream jewellery puts no limits to your imagination.

For this feminine hair accessory, white freshwater pearls and sparkling Swarovski crystals were used to create a finely branched, hand-made hair comb with romantic floral elements.
A charming eye-catcher for a wide variety of bridal hairstyles that works perfectly in short and long hair. Would you prefer this hair comb understated or opulent? Don't forget, all of our jewellery can be individually tailored to your preferences because each piece is hand-made especially for you. Simply write to us and we will design your piece collaboratively according to your wishes.

A simple double-looped Alice band evenly studded with small Swarovski crystals. This attractive hair accessory is an ideal choice for lovers of straightforward, no-frills jewellery and works equally well in up-dos, short hair or long and loose styles. It gently complements simple bridal dresses or creates a counterbalance to richly decorated lace dresses.
Expressive hair comb with ornate leaves shaped from small Swarovski crystals. This hair comb excites with its attention to detail and creates a true eye-catcher in romantic up-dos. An ideal choice for all brides who are looking for a highly unique piece to create a distinctive focal point in their bridal hairstyle. 

The ultimate must-have for a bride looking for jewellery that is as individual as her. This long, flexible hair accessory combines high-quality freshwater pearls in different sizes to create an elastic it-piece that creatively adapts to your ideas and can be used in hair of any length and in different bridal hairstyles.
What would we be without our amazing team which has supported us with great motivation, humor and passion. Thank you so much!

Photographer BINA TERRÉ | Hair & Make-Up JULIA REISS | Lace Bridal Gown KATYA KATYA | Modern Bridal Dress OTADUY | Model ÉLISE DENYS | Video LIESBETH VANDAMME | Copywriting KATHRIN NOLTE, SHIRIN KATRIN PACKHAM, SUSANNE RADEMACHER