On September 5th we had the pleasure of attending the premiere of "Elisabeth – das musical" – 20th Anniversary in Vienna. One reason to appear was of course because JUVELAN designer Johan Vandamme plays one of the Death Angels in the show. The second reason we were there was because we had the amazing opportunity of dressing not more then 12 beautiful ladies with JUVELAN jewellery. And the most beautiful thing for us was that all of them came to us and asked if they could wear something from us. Some of them wore designs that we've made in the past, and for some of the ladies Johan created JUVELAN couture. We want to share this beautiful experience with you and show the different jewellery that was showcased on the red carpet and at the premiere party.
Janneke Ivankova- van Duinhoven (2nd from left) had the pleasure of wearing the playful but very stylish white cluster earrings with a matching bracelet all made in sterling silver, freshwater pearls and Swarovski crystals.
Sonja Schatz (3rd from left) decided to go for a glamorous bracelet from our current collection but instead of Padparadscha we made it in Golden Shadow.
Anja Backus (1st from right) had a very simple but sparkly pair of crystal earrings on.
Juliane Katharina Maria Bischoff was wearing our new 14k gold-filled chandelier earrings with white freshwater pearls and 5 karat African Sapphires. Photographed together with our jewellery master Johan.
Katrin Mersch was wearing a charming pair of earrings with white freshwater pearls and Swarovski crystal.
Eve Rades, Hinterm Horizont – Berlin, with Kurosch Abbasi who playes the part of Luigi Lucheni, had a white version a best-selling necklace and custom made earrings with white freshwater pearls and clear Swarovski Crystals.
Marle Martens (top photo, 1st from left) decided to go crystal all the way and redesigned a pair of existing earrings with Johan. She also decided to have a bracelet to it, made out of a mix from white drop freshwater pearls and Swarovski crystal drops and our irresistible crystal encrusted clasp.
Raphaela Pekovsek was wearing a unique pair of golden orchid earrings with a white freshwater pearl.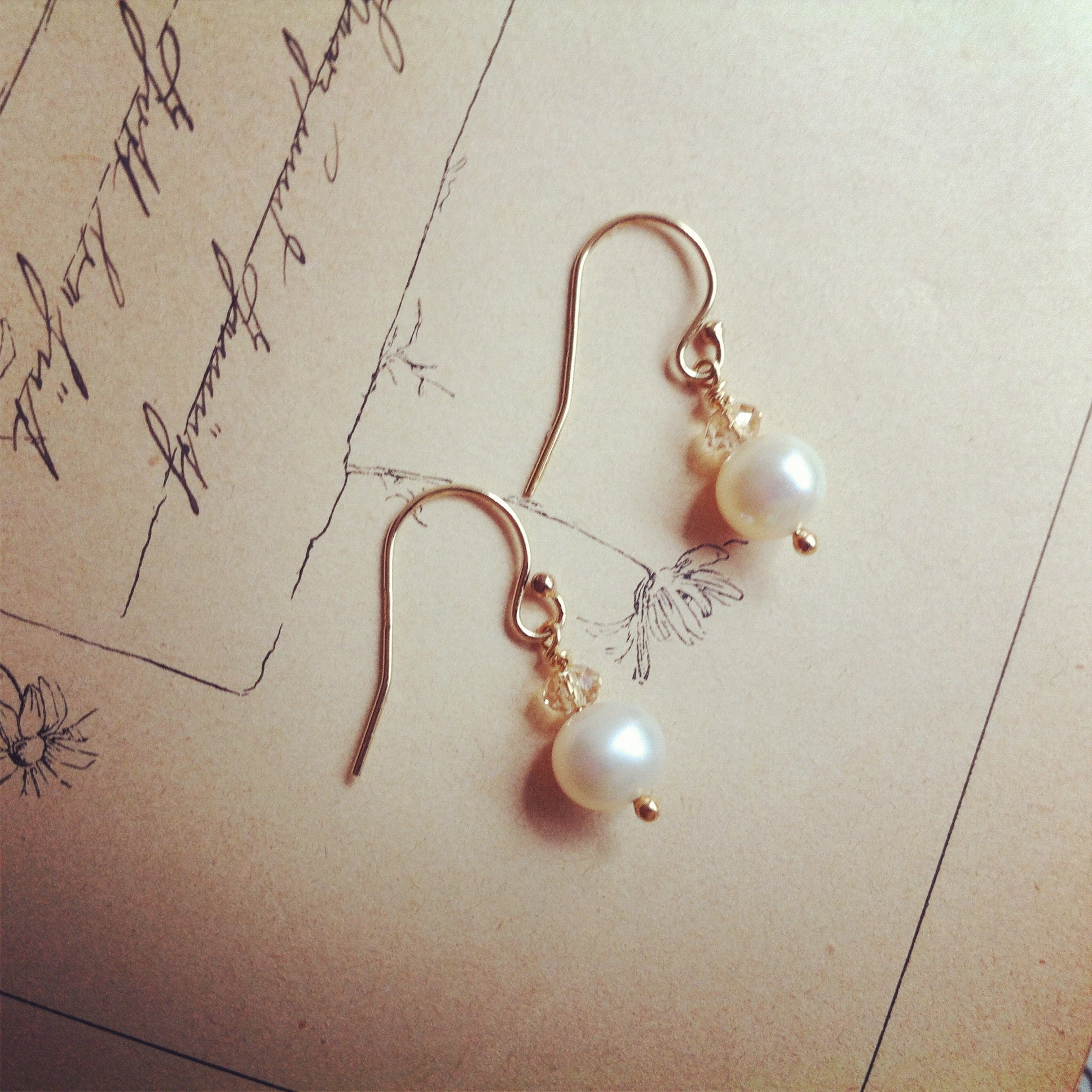 Christine, Johan's mother, had a very simple but still stylish and sparkly pair of golden earrings with a white freshwater pearl and Swarovski crystal.
For Linda Konrad we invented something totally new and made a cuff bracelet made completely out of blue Swarovski crystals, and redesigned a pair of existing earrings into one long beautiful earring.
Pia Douwes, for those who don't know created and played the part of "Elisabeth" for the world premiere in Vienna 20 years ago, was also wearing a complete new set of jewellery matching her dress in her favourite colour purple. Here earrings are made off 14k gold-filled wire and purple Swarovski crystals. The cuff bracelet she was wearing had purple and gold in it as well. Over all she was really sparkly and there was no way of not noticing her.
And last but definitely not least we were very happy that Vienna's brand new wonderful and gorgeous new "Elisabeth" Annemieke Van Dam decided to wear a complete set of JUVELAN jewellery.
For her, Johan created the finest and most delicate piece of JUVELAN jewellery so far. It was a divine mixture of Sterling silver, Stardust beads, little white freshwater pearls, a romantic fine silver rose clasp and exquisite Swarovski crystal drops. Not for no reason Johan named this little collection "Crystal rain"
The earrings have three strands and dangled very pretty on her ears.
The bracelet was a masterpiece of seven rows of crystals, pearls and stardust beads with a fine butterfly clasp.
The actual masterpiece was the necklace Annemieke wore. A graceful, three-row necklace with a romantic sterling silver rose clasp in the back and a cascading waterfall of raindrops on her back.
A week after the premiere we were thrilled to see a photo from Annemieke Van Dam and her colleague Mark Seibert, who plays the Death, in the Austrian magazine "Seitenblicke".
We want to say thank you again to all those beautiful woman for shining like stars with our jewellery. You are all stunning!
And for the curious people who maybe fell in love with some of the new pieces there is good news. Some of them will appear in the new collection that will come online at the end of October. But if you really cannot wait, feel free to drop us an email to ask for information about the new designs.